Convention 2018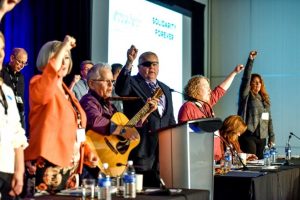 CONVENTION INFO
Every three years MoveUP holds a three-day convention to determine policy and political direction, consider changes to the union's constitution, and elect the vice-presidents. Our constitution defines convention as "the supreme decision-making body of the union."
The 2018 Convention is now in the books but you can re-live some of the best moments by accessing the resources below.
DAILY RECAPS
Look back on each day of the 2018 Convention with our daily recaps. Click on the links below.
NEWSLETTERS
VIDEO FEATURES
Watch some of the prepared videos, as well as the videos of key speeches, by going to our YouTube page and checking out the playlist for Convention 2018.
VICE-PRESIDENT ELECTION RESULTS
Christy Slusarenko was elected as Vice-President for the Combined units.
Rysa Kronebusch was elected as Vice-President for the Utilities unit.
Annette Toth was acclaimed as Vice-President for the ICBC unit.
RESOLUTIONS
Click here to see the resolutions submitted to Convention.
DOWNLOAD THE APP
Connect with your fellow attendees and get quick access to schedules, speaker information, and push notifications for important updates right to your smartphone. Download the MoveUP Convention 2018 app now! Available for Apple and Android devices. A web-based version is also available for PC, Blackberry or Windows devices.
Make sure you create a profile and update your name so you show up on the list of attendees!
CONSTITUTION & BYLAWS
MoveUP's Constitution & Bylaws can be found here.