Convention 2018
SAVE THE DATE
Every three years MoveUP holds a three-day convention to determine policy and political direction, consider changes to the union's constitution, and elect the vice-presidents. Our constitution defines convention as "the supreme decision-making body of the union."
Click here to see MoveUP's Constitution.
The 2018 convention will be held in Vancouver from November 1 to 3.
More information, including locations, speakers and courses will be available shortly.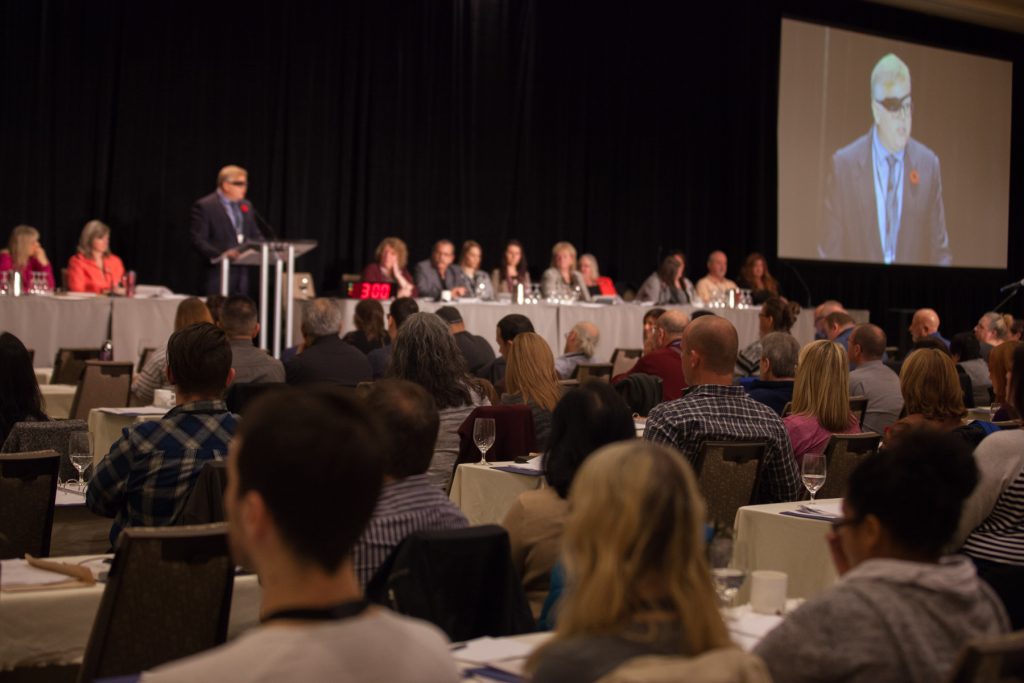 DELEGATES
In August, potential delegates will receive notice of convention along with a form that can be used to express interest in being a delegate to convention. The rules for delegate entitlements are laid out in the constitution, which is available on the MoveUP website. Your executive councillors will assist in conducting local delegate elections. Convention is a great opportunity to learn more about your union and have a say in how it runs.
ELECTIONS
Members interested in running for the executive board will have until mid-August to submit a nomination form. The president and secretary-treasurer, along with other board members, are elected via one-member-one-vote system, with constituencies electing their particular board reps. All members will get the chance to vote for these positions via mail. Vice-presidents will be elected at convention by delegates.
CALL FOR RESOLUTIONS
Members can also submit policy resolutions to convention even if they are not planning to attend as a delegate. Here is how it works:
1. Identify the issue or policy you are focusing on.
2. Determine the action you would like the union to take. This can be as simple as endorsing a policy or can involve the union taking action such as forming a committee, holding an event, or adopting a major policy change.
3. Draft a succinct resolution that briefly gives background on the issue and clearly defines the action you would like MoveUP to take.
4. Define the action/policy at the end of the resolution in 1-2 sentences.
5. All resolution must be sent to the executive board, c/o Karen Caston, Assistant to the President, at kcaston@MoveUPTogether.ca. Make sure you clearly note your name and workplace on the resolution. All resolutions must be received by August 3, 2018. If there are any issues with any resolutions you submit, someone from the union office will contact you.
We need your voice so MoveUP can continue to grow as a strong, representative organization.