About Us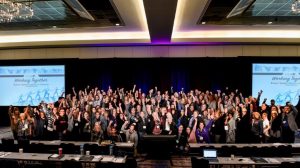 MoveUP represents nearly 14,000 union members at public and private sector companies across Canada.
MoveUP is Local 378 of the Canadian Office and Professional Employees Union (COPE SEPB) and we are affiliated with the BC Federation of Labour, the Canadian Labour Congress, and provincial labour councils. We are also affiliated with UNI Global Union, IndustriALL Global Union, and Public Services International through our national union. Our national union, COPE SEPB, represents over 30,000 members across Canada.
We are a diverse and socially responsible union, working together with many community groups to ensure the public and elected government representatives are aware of the benefits that unions bring to the economy of BC.
Our union has a long and proud tradition of representing workers dating back to the 1930s. We began as the union for BC Electric, the predecessor of BC Hydro. We now represent members in many of the industries and professions fundamental to our economy including at BC Hydro, FortisBC, ICBC, Capilano University, BCAA, transit providers, credit unions and car rental companies.
Our members provide services vital to the well-being of their communities and our economy. They are also the lifeblood of this union. We are a democratic institution run by an elected executive board and executive council who are all members of this union coming from a broad cross-section of worksites.
MoveUp staff have been specially trained in union-side labour relations. In addition to dedicated union representatives at certain workplaces, we have job evaluation and health and safety experts. We also work with highly skilled lawyers.
MoveUP has received many charitable awards and distinctions, and is recognized as a forward-thinking community member.
Our Structure
At our core, MoveUP is a democracy. All union officers are elected by members in their workplaces every three years.
The Executive Board, including the Table Officers which is comprised of the President, Secretary-Treasurer and three Vice-Presidents, and Executive Council members stand for election every three years.
Job stewards are elected from their work areas.
What We Do
MoveUP can deliver results. We have a proven track record of helping workers get respect and fair treatment at work, and a collective agreement that makes it easier to support yourself, balance work and family life, and plan for retirement.
You and your coworkers decide the priorities. One of the reasons people join unions is because it gives them a say in how their workplace is run. MoveUP workers set industry standards for productivity at workplaces such as BC Hydro, Canadian Freightways, and credit unions.
Together, we will work in good faith to negotiate an agreement that will work best for you and your coworkers' unique situation.