Respecting Picket Lines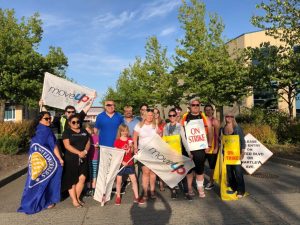 Sometimes, when negotiating a collective agreement, a union may find its members locked out or may find it has no other choice but to go on strike.
A lockout occurs when, during negotiations for a collective agreement, the employer refuses to allow its employees to work in order to force a settlement on their terms. In these instances, an employer may refuse to allow employees onto their premises, change locks, hire security, or close down.
The idea of a strike is simple: if the conditions and terms of work are no longer acceptable to the workers, and if the union has been unable to make improvements through negotiation, the workers withdraw their labour.
While strikes are often a last resort, they are an important tool and a recognized right for unions.
In some cases, MoveUP members may find their workplaces picketed by members of another union that is on strike. When we stand with other union members by refusing to cross their picket line, we help put added pressure on their employer. Many other unions' struggles are linked to our own and we need to remember that, one day, we may need their support in our own disputes.
Your rights when another union pickets
You have the right to refuse to cross a legal picket line without fear of discipline.
A picket line is considered legal unless it is found to be illegal either by a Labour Relations Board ruling or by the courts. An employer does not get to decide the legality of a picket line.
Will you lose pay or benefits by respecting another union's picket line?
When you respect another union's legal picket line, it is as if you are on strike with MoveUP.
Your union will work with your job stewards to ensure members receive picket pay if they lose regular pay. Your union will also arrange with your employer to continue benefits on your behalf as long as you are off work for more than half a day.
What happens if you cross another union's picket line?
Section 16.1 of MoveUP's Constitution allows for a member to bring a charge against another member for crossing a picket line within six months, whether it is our picket line or another union's.
Section 16.4 of MoveUP's Constitution states that after the charge is fully investigated, the member may be subject to discipline.
Discipline may include:
Reprimand in writing;
Fine;
Suspension from membership for a specified period of time;
Suspension of the right to hold office for a specified period of time;
Expulsion from membership, or prohibition from holding office;
Any combination of the foregoing penalties.
Expulsion from membership could lead to the loss of your job.
Do you have to be working to be considered crossing a picket line?
No. Crossing a picket line occurs at any point when you go beyond the barrier that the striking members are enforcing and onto the employer's premises. Even walking through a building or across a parking lot is considered crossing the picket line.