MoveUP Convention 2018 – Day 2
November 2, 2018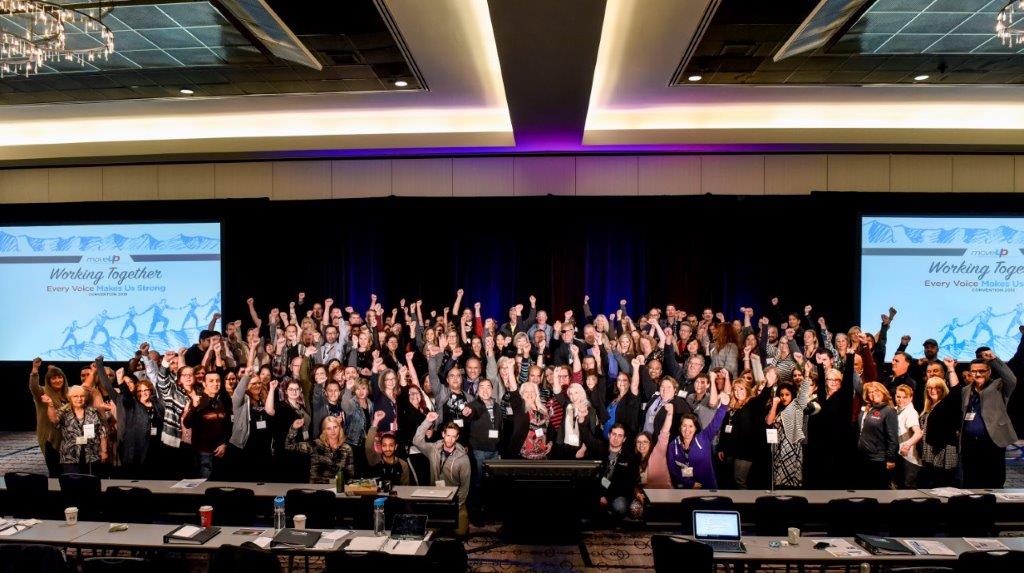 Day 2 of the 2018 MoveUP Convention featured a star-studded lineup of speakers all talking passionately about issues that matter to union members, the labour movement, as well as issues that matter to all British Columbians and Canadians as well.
The morning kicked off with Vancouver & District Labour Council Stephen Von Sychowski offering greetings and talking about the work of the VDLC and some of the many ongoing projects and opportunities available for all MoveUP members.

When B.C. Premier John Horgan entered the room, it nearly brought the house down. The BC NDP leader spoke on a number of topics of interest, particularly for members, including ICBC, BC Hydro, workers' rights and, last but not least, proportional representation.

Following Horgan's address, MoveUP delegates voted in favour of the resolution to affirm its support for proportional representation and actively campaign in favour of proportional representation, as well as to endorse and support the efforts of Vote PR BC and encourage all members to support democratic voting reform.
Canadian Labour Congress President Hassan Yussuff following Horgan and if the former nearly brought the house down, then the latter definitely tore the roof off with his impassioned speech on the importance of implementing a national PharmaCare in Canada.

Following Yussuff's speech, MoveUP members voted in favour of the resolution for MoveUP to lobby federal Members of Parliament to ensure that the Advisory Council on the Implementation of National PharmaCare moves from studying to recommending a national Pharmacare plan.
The morning schedule was closed by outgoing BC Federation of Labour President Irene Lanzinger who spoke glowingly about the work of MoveUP in the labour movement and all the work that continues to be in front of us.

The afternoon featured working group breakout sessions where delegates attended one of four workshops on the topics of Domestic Violence, Reconciliation, Diversity, and Organizing.
Friday's schedule closed out with a dinner and dance for delegates.
Click here for Friday's newsletter.
Click here for the Day 1 ((Thursday) recap.
Click here for more on Convention 2018.