Labour Day 2020: A message from our Table Officers
September 3, 2020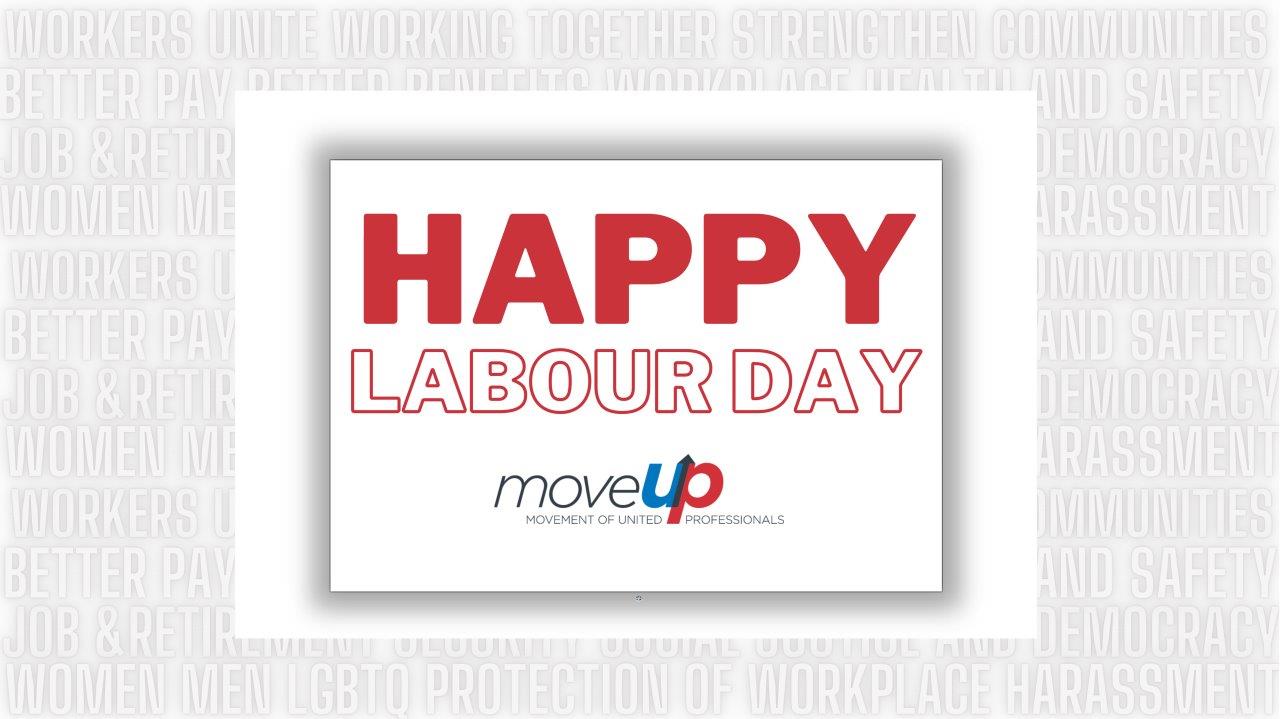 On behalf of our Executive Board, Executive Council, and our staff at MoveUP, we want to wish you and your family a happy Labour Day.
To say that this year's Labour Day takes place under rather unique circumstances would be an understatement. Normally, we would be encouraging you to attend different Labour Day events happening in your communities but the ongoing COVID-19 pandemic means this year it will be virtual gatherings that we hope you take the time to be part in, such as those being put on by the Vancouver & District Labour Council or the New Westminster & District Labour Council. The Fraser Valley Labour Council is also hosting a Facebook Live event which will feature prize giveaways which you can register for here.
A year ago, Labour Day came at a time when we were gearing up for a federal election – one that would ultimately see the incumbent Liberals lose their majority and be forced to work across party lines. We said at that time that we needed to elect a government that will advance the agenda of workers – one that will put people at the heart of its focus instead of prioritizing big corporations and the wealthy ahead of working families.
When the pandemic hit, we witnessed the impact that we had with our votes. We witnessed the federal NDP, led by Jagmeet Singh, fight for paid sick leave for all Canadian workers, access to COVID-19 financial support for seniors and those with disabilities, and the extension of the Canadian Emergency Response Benefit into the summer. We watched them lead the push to get federal funding for public transit and public education, as well as address the crisis in long-term care homes.
We have also heard issues like universal pharmacare, universal dentalcare, universal childcare, and universal basic income being pushed forward. None of this would be possible without the work of you – and everyone in the labour movement – coming together to make your voice heard and to fight for the rights of all workers.
With the possibility of another federal election in the near future, the plummeting popularity of Alberta Premier Jason Kenney, and for those of us in B.C. the certainty that a provincial election will take place sometime between now and the Fall of 2021, we will need you to make your voice heard again through the power of your vote if and when the time comes.
Until then, let us remember that Labour Day is not just a day off. It is a day to honour and celebrate the achievement of workers across the country – past and present.
This Labour Day – even on a day when we cannot gather as we traditionally would – we encourage you to think about how you can continue to push for positive gains for all workers.
In solidarity,
David Black, President
Lori Mayhew, Secretary-Treasurer
Rysa Kronebusch, Vice-President Utilities Unit
Christy Slusarenko, Vice-President Combined Units
Annette Toth, Vice-President ICBC Unit