Family reunion BBQ with our car rental units at YVR Airport
November 8, 2019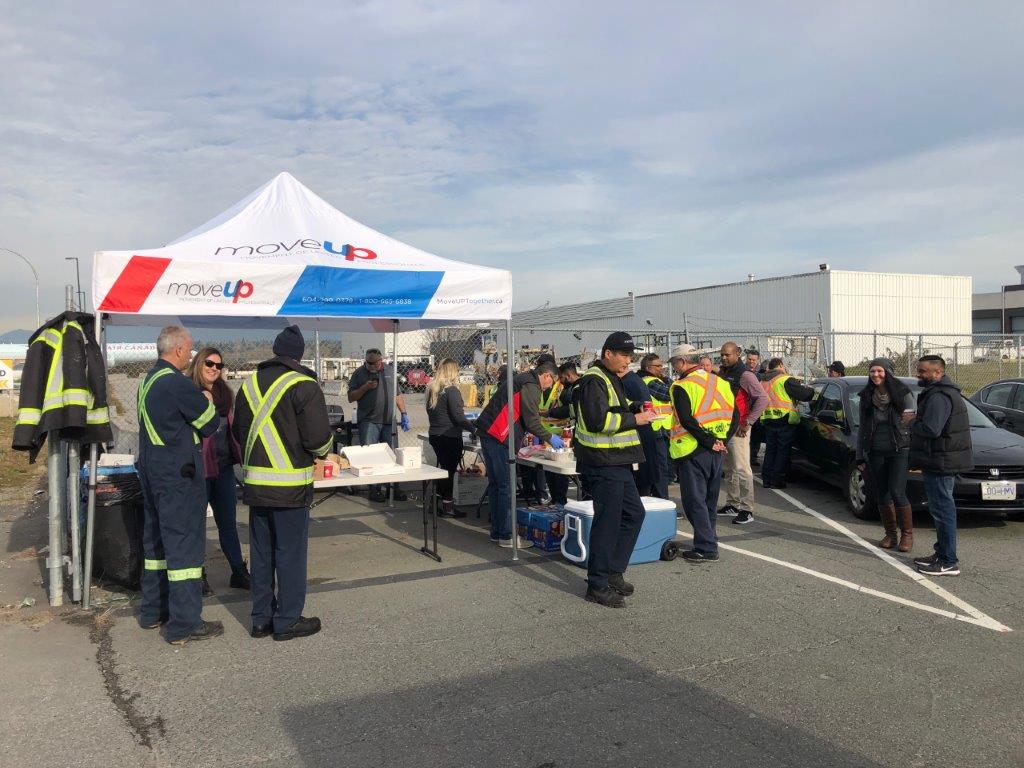 What better way to kick off a long weekend than with a barbecue party on the job? How about a barbecue party with all your fellow MoveUP members in the same industry.
On Friday, November 8, MoveUP brought together our members working in the car rental industry – Avis Budget Group, Enterprise, and Hertz – at YVR Airport in Vancouver. Joining the barbecue and interacting with our members included MoveUP President David Black, MoveUP Vice-President of Combined Units Christy Slusarenko, Union Representative Shawn Lakusta, along with several other MoveUP staff members.
Many of our members working out at the airport location are familiar with one another because they work in such close quarters, but it's always a special opportunity when they can all come together in a more casual setting and meet other members of MoveUP's executive team and staff as well.
"You see the turnout," said Raj, a MoveUP job steward who works at Hertz. "They appreciate it with our union being here."
"The barbecue is very important," said Sylvia, who has been with the Avis Budget Group for 14 years and, for the past two years, has been a MoveUP job steward. "It is solidarity and brings people together as a team."
Sylvia also went on to talk about how having MoveUP in her workplace has been a positive one, and has helped keep members there happy noting that there has also been less turnover of staff as a result.
"It has been a positive experience and it has taught me a lot about my co-workers and management and all aspects of work. We all want to be happy and we can achieve a harmonious relationship between members and management by networking."
MoveUP has had a strong history of representing workers at car rental agencies and our family branch at the car rental agencies continues to grow.
In late 2017, we welcomed car shuttlers from Avis to our union. Early this year, the Hertz location at the Victoria Airport certified with MoveUP.
"We're excited to see more and more workers in the car rental industry choose MoveUP because they know about our history and our proven track record when it comes to our representing members," said Christy. "It's great to celebrate our many hard-working members here at the different car rental agencies at Vancouver airport, and we look forward to continuing to expand our MoveUP family here and in other car rental locations in other areas as well."
As we welcome more members into our union from the car rental agency, our collective strength grows. MoveUP is proud to have the strongest collective agreement for car rental industry employees in British Columbia and we are committed to continuing to fight for our members at car rental agencies, and in all other workplaces, to improve work conditions.
Learn more about the car rental units unionized with MoveUP by clicking on the links below:
Avis Budget Group
Enterprise
Hertz (Vancouver Airport)
Hertz (Victoria Airport)