BCFED Convention 2018 – Day 3
November 28, 2018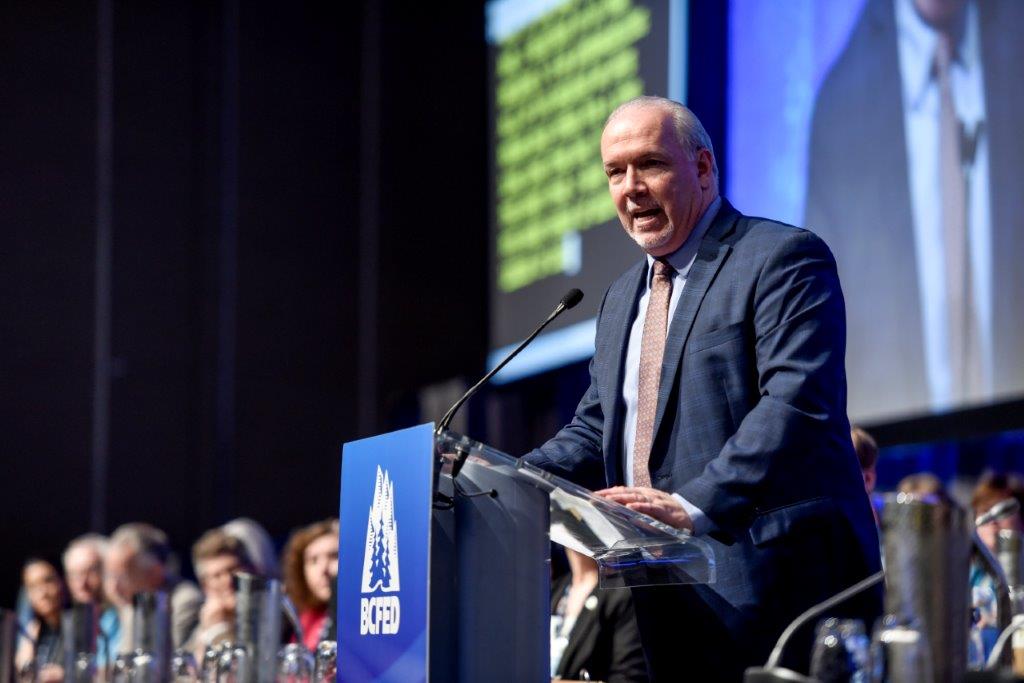 An activity-packed Day 3 of the 2018 BC Federation of Labour Convention  kicked off in the morning with Tracy Prezeau, International Representative with the International Brotherhood of Electrical Workers (IBEW) speaking on union members sharing union values, and how workers should be talking to other workers about shared human values especially when addressing those those who may have been conditioned to have a negative view towards union.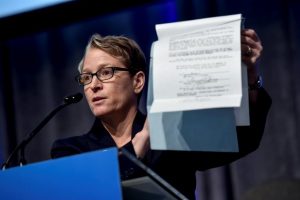 Tracy's speech was largely in response to the U.S. Supreme Court's Janus ruling when they ruled back in June that non-union cannot be forced to pay fees to public sector unions, marking a huge blow for collective bargaining rights.
The speech highlights the positive work post-Janus that union members have done that have continued to strengthen memberships in spite of the ruling and provided am example that all union members can learn from that to share our values so that those who aren't actively involved in the labour movement can truly understand why unions matter and how they improve workers' rights and conditions.
Aaron Ekman, the outgoing Secretary-Treasurer for the BCFED, delivered his final Secretary-Treasurer Report to Convention which was passed. During the report, Aaron gave an impassioned speech on the need for unity and solidarity within the labour movement and our unions.  A tribute for Aaron was also played for the assembled delegates honouring and thanking him for his service to the BCFED and to the labour movement and among the delegates who gave a personal thank you to Aaron included MoveUP's own Secretary-Treasurer, Lori Mayhew.
The Climate Change Working Group Report, along with its recommendations, was carried, as well as Resolution 11 Amended (Water Sustainability Act).
Dr. Kendra Strauss, Director of the Labour Studies program at Simon Fraser University, took to the stage to speak more about the new Labour Studies program at SFU including talking about their plans to expand the co-op program to create positions for students to get involved in unions. Dr. Strauss also revealed the school's plans to relaunch the Morgan Centre for Labour Research, as well as their work alongside the BC Labour Heritage Centre to bring more labour studies to the K-12 curriculum.
The Education Committee Report was also carried.
The chance of a lunch hangover occurring was zero – in fact, you could say all the delegates became woke – when B.C. Premier John Horgan took to the stage to address the gathered crowd. It was a bit of a historic moment considering it had been over 20 years since a B.C. premier had addressed the BC Federation of Labour Convention. No surprise considering the previous government was not exactly friendly to workers' causes and rights.
The Premier, flanked by many other BC NDP MLAs, spoke on issues ranging from energy to childcare to healthcare to the affordability issue and the steps the BC NDP government are taking to tackle what the previous Liberal government took no positive action on.
The Premier also reminded everybody to return their electoral referendum ballot and to support proportional representation. The current system works against collaboration which makes it harder for our elected officials, which he mentioned also includes likeminded BC Liberals, from being able to come together collectively to work for the good of all British Columbians.
Horgan, or Premier Dad as he's known in some circles, also specifically gave a shout out to MoveUP and our members in the middle of his speech which earned a collective cheer from our delegates.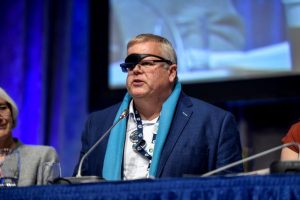 MoveUP President David Black delivered the Political Action Committee Report which was carried, along with Resolution 141 (election readiness).
Marissa Nahanee (Maykw Cha7em) from the Squamish & Nisga'a Nations, Eagle Clan gave a heartfelt address and spoke about the hardships faced by Indigenous peoples but their continued strive to make tomorrow better.
Seth Klein from the Canadian Centre for Policy Alternatives (CCPA), the outgoing B.C. Director of the agency, capped off the speakers on Day 3 joking how in his 22 years at the CCPA, this was the first time he had ever been invited to speak at the BCFED Convention. Seth talked about the CCPA's work in their research both provincially and federally and touched on issues such as property tax, MSP elimination, human rights, and proportional representation among others.
Resolution 27 Amended (universal pharmacare), which was referred back to the Committee yesterday to add a specific timeline, was carried with the addition of a completion date of 2020.
Other resolutions passed included: 17 (protection and support for precarious work), 19 (Employment Standards), 14 Amended (job loss protection from automation/technology change), and 140 (condemning hate).
Resolution 28A Composite resolution to cover 28 and 33 (health care services for seniors in B.C.) was referred back to the Commmittee.
The day concluded with the signing of the First Nations Protocol.
All reports as well as list of resolutions can be found on the BCFED's Convention website here.
Click here for the Day 2 report from the 2018 BCFED Convention.
Click here for the Day 1 report from the 2018 BCFED Convention.
BCFED 2018 Convention Day 3 in the eyes of MoveUP Executive Board Member Bruce Sarvis