2021 MoveUP Convention – Day 3 Recap
October 30, 2021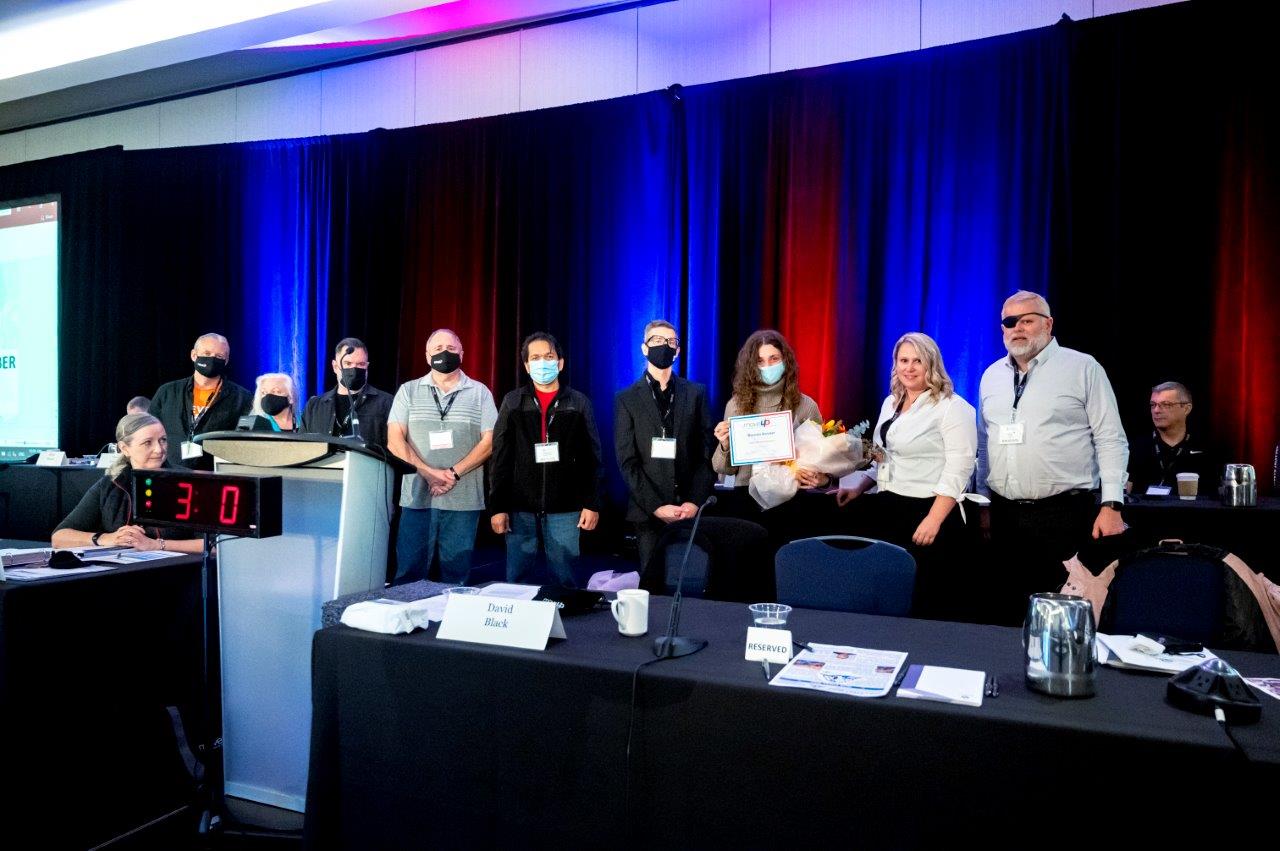 There was a lot of anticipation and excitement for the start of the final day of Convention with the announcement of the vice-president election result for the Utilities component beginning the day.
Utilities VP Election Result
Congratulations to Rysa Kronebusch, who was successfully re-elected as Vice-President, Utilities for the term ending Fall 2024. Learn more here.
Brenda Rovner – Lifetime Honourary Member
Emotions continued to run high as the late Brenda Rovner, a very passionate union activist from Capilano University who passed away in September 2020, was posthumously awarded a Lifetime Honourary Membership to our union. Read more about Brenda here.
Mexican Senator Napoleón Gómez
Also featured on the final day was a video message from Mexican Senator Napoleón Gómez.
Senator Gómez's message talked about returning to Mexico after a long exile where he spent 12 years in Vancouver and continuing to fight for the rights of workers in his home country now as a senator working with Mexico's president, Andrés Manuel López Obrador, while fighting the corruption and greed of big companies. Watch Senator Gómez's address below.
You can watch Senator Gomez's speech, along with the accompanying presentation, here.
Resolutions
Resolution debates continued on the final day. The following resolutions were passed at Convention on Day 3:
Amended C2 – Constitution 9.6 – Dues
C26 – Constitution 6.2 and new 5.2(k)
C16 – Bylaw 3C (Voting) and 3D (Mail & Electronic Ballots)
C17 – Constitution Article 11 – Voting and Balloting Procedure
C18 – Bylaw 3D – Mail and Electronic Ballots
C19 – Constitution Article 4 – Executive Board
C20 – Constitution 6.2(g) – Duties of Executive Board
C21 – Constitution Article 7 – Executive Council
C22 – Constitution 7.4 – Duties of Executive Council
C23 – Constitution 8.2 – Election of Job Stewards
C27 – Constitution 4.3(e)
C28 – Constitution 7.2(b)(iii)
C29 – Constitution 13.4
C30 – Constitution 10.7(c)(iii)
HR2 – Ending Femicide
HR3 – Ending the Blood Ban
HR4 – Acknowledging Systemic Racism in the Labour Movement
HS3 – Decriminalize Sex Work
R4 – Food Insecurity
R15 – Systemic Racism
HS1 – Psychological Trauma
The following resolutions were referred back to the committee:
R14 – Election of Vice President Combined
R1 – Defunding the Police
All outstanding resolutions will be referred to the executive council.
To see the full text of all resolutions, click here. Click here for Amended Resolution C2.
Visit our 2021 Convention page for more information.