2020 Day of Mourning for Workers Killed or Injured on the Job
April 23, 2020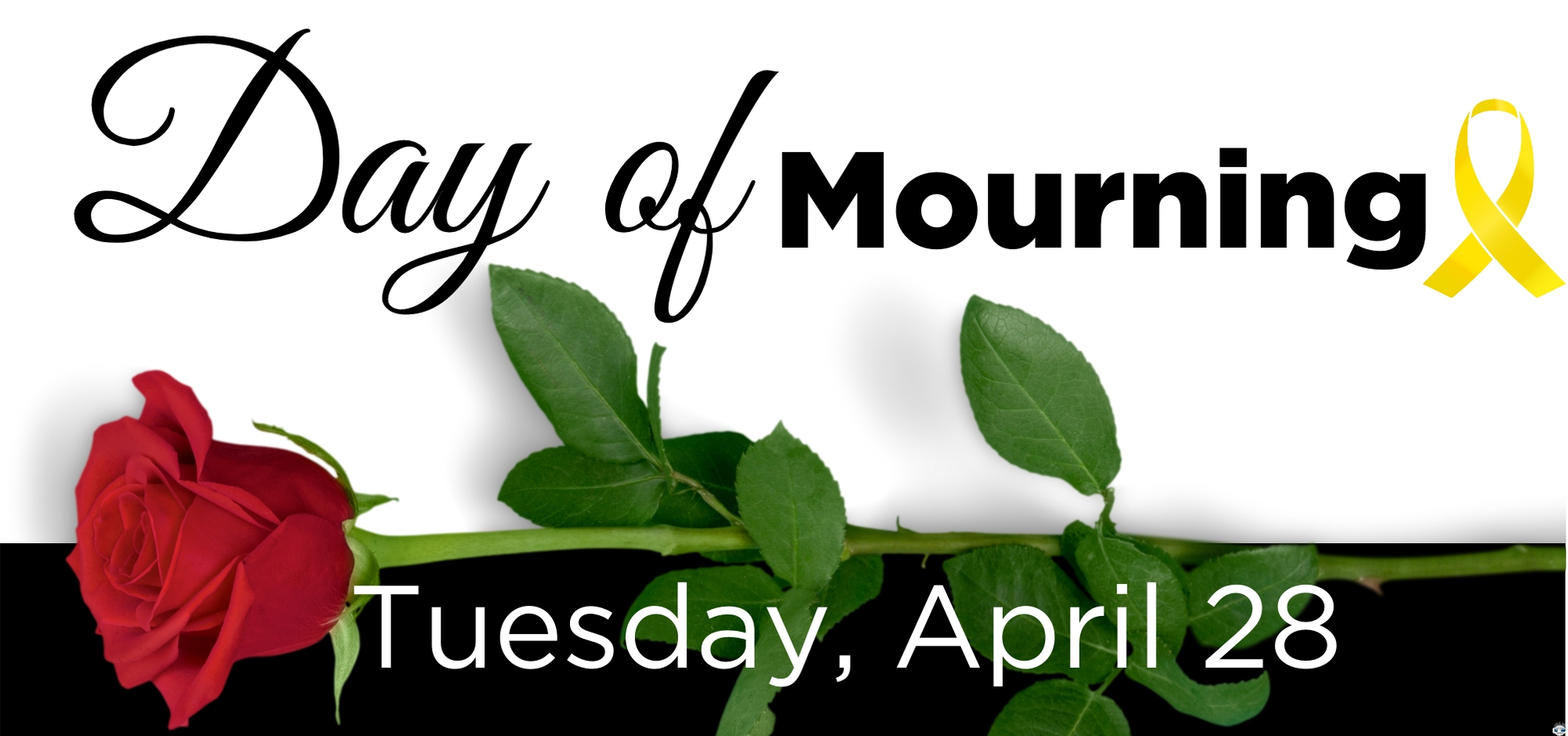 April 28 is the National Day of Mourning for Workers Killed or Injured on the Job. Traditionally on this day, all over the world, public ceremonies are held at 11 a.m. to mourn these workers, and those suffering from occupational disease.
This year, as the world faces the COVID-19 pandemic, Day of Mourning has taken a different tone. April 28 will not only be an opportunity for workers and employers to remember the dead, but critical for all of us to express our continued commitment to protecting workers and preventing further tragedies, and making every workplace safe and healthy for everyone.
No one should ever have to go to work and not be able to safely return home. In 2018, 1,027 workers across our country died because of their job. Many more work-related deaths aren't counted by our workers' compensation system. This is unacceptable and, yet, without immediate action those numbers will increase exponentially amid the COVID-19 crisis.
Normally, we would encourage you to attend a ceremony in your area on April 28. This year, however, the best actions that all of us can do is to follow the directives laid out by our provincial health officials which is to avoid all non-essential outings, physical distance if you are outside your home, and to wash your hands.
But there are still ways to mark Day of Mourning this year, including observing a moment of silence at 11 a.m. on April 28 and using your social media channels to promote the cause using the hashtags #WorkersDayofMourning and #StopthePandemicAtWork.
Please join your fellow union members at an event in your community as we remember those we have lost and continue to fight to ensure that no one is forced to risk injury, illness, or death as a result of going to work. Visit dayofmourning.bc.ca for more information and to find other resources.
In the face of COVID-19, we are highlighting in particular the critical need to make sure that all workers, including precarious and vulnerable workers, have access to job protections, adequate paid sick days and income supports to protect them through this crisis.
We are also raising awareness about the importance to defend our basic rights at work that are protected in health and safety statutes across Canada. Those rights are the right to know about hazards in our workplace and to receive training to do our jobs safety, the right to participate in decisions that could affect our health and safety, and the right to refuse work that could endanger our health and safety or that of others.
Please also keep in your thoughts those performing non-traditional work – such as sex workers – who, because of the stigma surrounding what they do, have little to no access to even the most basic of worker protections. The injuries and fatalities they sustain likely won't be reflected in any official statistics, and yet they are just as important to remember as those that occur in traditional work.
Join us to honour the memory of those who have lost their lives on the job and to bring awareness to workplace safety on April 28.
In solidarity,
David Black, MoveUP & COPE/SEPB President
Rysa Kronebusch, MoveUP Vice-President and Chair, Health & Safety Committee