*The page has been preserved as reference for historical information purposes*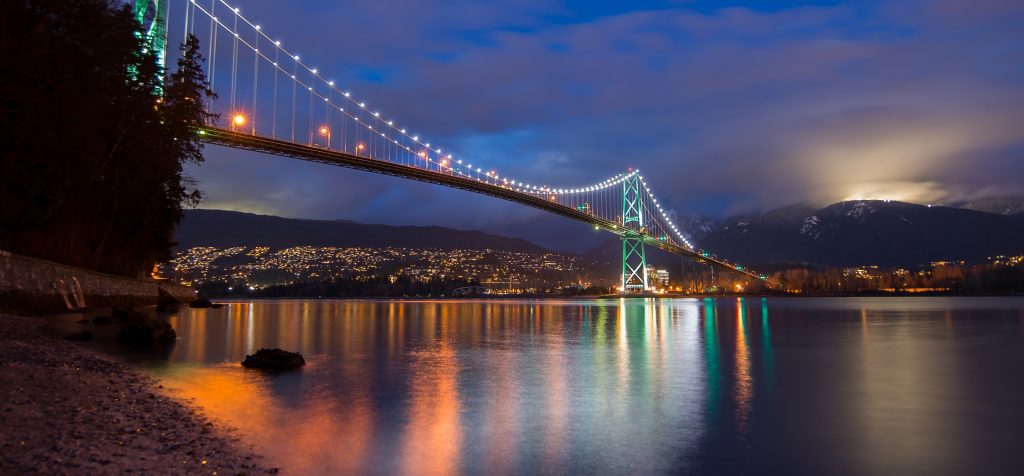 This page has been set up to educate and inform MoveUP members on the amalgamation process at FortisBC Inc. and FortisBC Energy Inc. (Gas) and FortisBC Inc. (Electric).
*Important: Upcoming meetings to discuss the Amalgamated Collective Agreement*
We will be coming out to conduct membership meetings at various locations to present the Amalgamated Collective Agreement and to answer questions. We have been able to secure some meeting rooms at these various locations and the Company has agreed that the time spent will be Company paid. Please note below the meeting times, dates and the locations for when we will visiting you: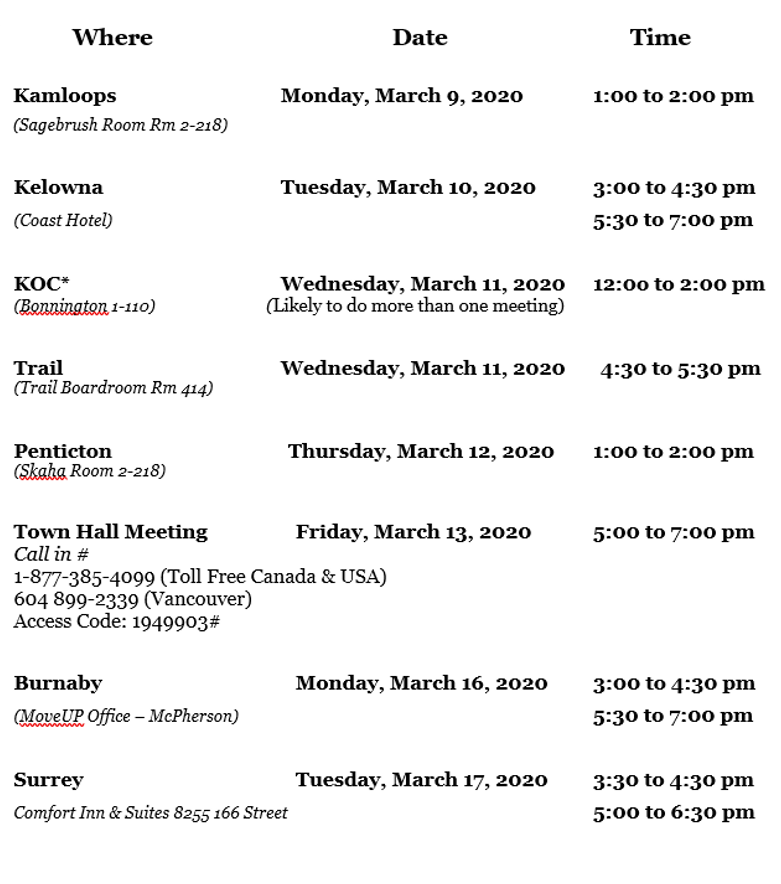 If you are unable to attend any of these meetings, please note that we will be conducting a Town Hall Meeting on Friday, March 13, 2020, as noted above. In preparation for these meetings, please review the Amalgamated Collective Agreement found here.
The question being asked of the membership on the ballot will read as follows:
"Do you accept the proposed Amalgamated Collective Agreement?"
YES NO
Company Paid Attendance at Amalgamation Voting Meetings
The Company has only agreed to pay for the attendance of members who are working at the work locations at the time the meetings are being conducted. For instance, for an individual who works at the Kootenay Operations Centre (KOC) and who will want to attend the meeting at 1 p.m., the Company will approve that time for that member to attend.

However, for those who may live in Vernon who wish to go a meeting in Kelowna or Kamloops, you would not qualify for the Company paid time off, as the meeting is not being conducted at your work location. The Company is only prepared to pay for the members who are currently working at the work site locations, so that will mean the following:
Kamloops – only individuals who work at the Kamloops work location will be approved to attend on Company time.
Kootenay Operations Centre – only individuals who work at KOC will be approved to attend on Company time.
Penticton – only individuals who work at the Penticton work location will be approved to attend on Company time.
Trail – only individuals who work at KOC will be approved to attend on Company time.
**Trail employees will not be compensated for their attendance at the meeting to take place at 4:30 p.m. If you live in Trail and travel to KOC to work, as it is your designated headquarters, then your time will be paid to attend the meeting from 1 p.m. to 3 p.m. because you are at work.
We hope that this has provided some clarification, and we would ask that if you are not able to attend one of the off-site meetings that the option to call in on the Town Hall Meeting on Friday, March 13, 2020 is available.
ABOUT THE AMALGAMATION
FortisBC wants to "amalgamate" or merge the MoveUP bargaining units at FortisBC Energy Inc. (Gas) and FortisBC Inc. (Electric) into one. They could apply to the Labour Relations Board (LRB) on their own, for an order that would combine the two groups of employees, but instead they have chosen to engage your union in the process. This is good news for our members, because it gives us input into how this would be carried out.
Amalgamation would turn the two groups into a single bargaining unit with a single collective agreement. However, it would not necessarily eliminate all of the difference between the two employee groups that we have today. For example, there would still be two distinct pension plans.
Your committee members have spent several months meeting with employer representations and reviewing the articles of the two respective collective agreements. This has allowed us an opportunity to review all the critical sections that will affect members to ensure that they do not suffer any losses. In fact, in most cases, we will see a strengthening of the language and a positive benefit for many of our members.
BENEFITS OF AMALGAMATION
Amalgamation is beneficial for the employer as it allows them to better utilize their resources, but it is actually more advantageous for you and your union when it comes to representing your interests both in the short-term and the long-term.
It is beneficial to our members in many ways, including our ability to "cherry-pick" some of the best of each of the current collective agreements for the new combined bargaining unit that would emerge. Where differences continue, it would create a trend over the course of collective bargaining, almost like the pull of gravity, to level everyone up to the best of both.
Amalgamation provides us with increased power at the bargaining table. The more members we have in a single bargaining unit, the greater impact we have on their operation, the more weight we carry in any potential labour disputes, and, therefore, the more leverage we have during contract negotiations to achieve better deals for all our members.
PROTECTION FROM UNILATERAL MERGER
The employer has indicated that a merger of these two units is their plan. Their preference, and ours, is to work collaboratively to ensure our members – their employees – are well-informed about the process and what that entails.
We prefer this process to proceed transparently, where our membership has access to all the information, and where your union has the ability to review all affected areas to ensure your interests are served.
However, if our members reject our proposed Amalgamated Collective Agreement, we anticipate the employer will move to a unilateral merger of the units through an application to the Labour Relations Board. This may result in a weakening of your collective agreement if the Labour Relations Board is called to rule on it.
AMALGAMATION IS NOT BARGAINING
The amalgamation process should not be confused with bargaining. We are not negotiating anything new in the Amalgamated Collective Agreement. Rather, the work that your committee has done is to highlight the sections where there are differences between the Gas and Electric collective agreements, respectively, and bring forward the stronger or more beneficial language for our members into those agreements into the Amalgamated Collective Agreement.
Assuming the Amalgamated Collective Agreement is ratified, when collective bargaining begins again after the expiration of the agreement, that will be the opportunity to bring forward additions or changes that our members feel is important.
At that point, thanks to the amalgamation process, we will be working with a stronger collective agreement to start with so that we can push forward for greater gains rather than simply trying to recoup what we may potentially lose should the amalgamation process have to go through the Labour Relations Board.
QUESTIONS AND ANSWERS