Bulletin
Amalgamation Update Bulletin #9
---
February 14, 2020
To: All MoveUP members at FortisBC Inc. and FortisBC Energy Inc.
---
Amalgamation Update Bulletin #9
(Please enable images in order to view the information charts at the bottom of the email).
In our previous update to you, we indicated that your Amalgamation Committee met on January 23 and made the decision to bring the Amalgamated Collective Agreement back to the entire membership for review, discussion, and to vote.
This will provide all our members with a voice to decide whether or not to accept the Amalgamated Collective Agreement that our committee, and your employer, have been working on for over a year.
While we are still in the process of putting the final touches on this document for you to review, we felt it was important that we reach out to outline what the pros and cons of the Amalgamated Collective Agreement are.
In drafting this agreement, we attempted to take what we felt was the best of both respective collective agreements (Electric and Gas) and combine them into one, taking the best language terms from each. We have a document that provides for terms and conditions for existing and potential MoveUP members under a Common Employer structure.
It is important to note that going through this effort means we have an ability to have a collaborative collective agreement, as opposed to one that is just imposed on us.
Additionally, for Electric members, we have also agreed to a Letter of Understanding (LOU #42) that will provide for the grandparented protection of rights and entitlements that currently exist for them until the expiry of the collective agreement on June 30, 2023.
The charts below will outline the gains and protections, as well as listing some challenges, for each group.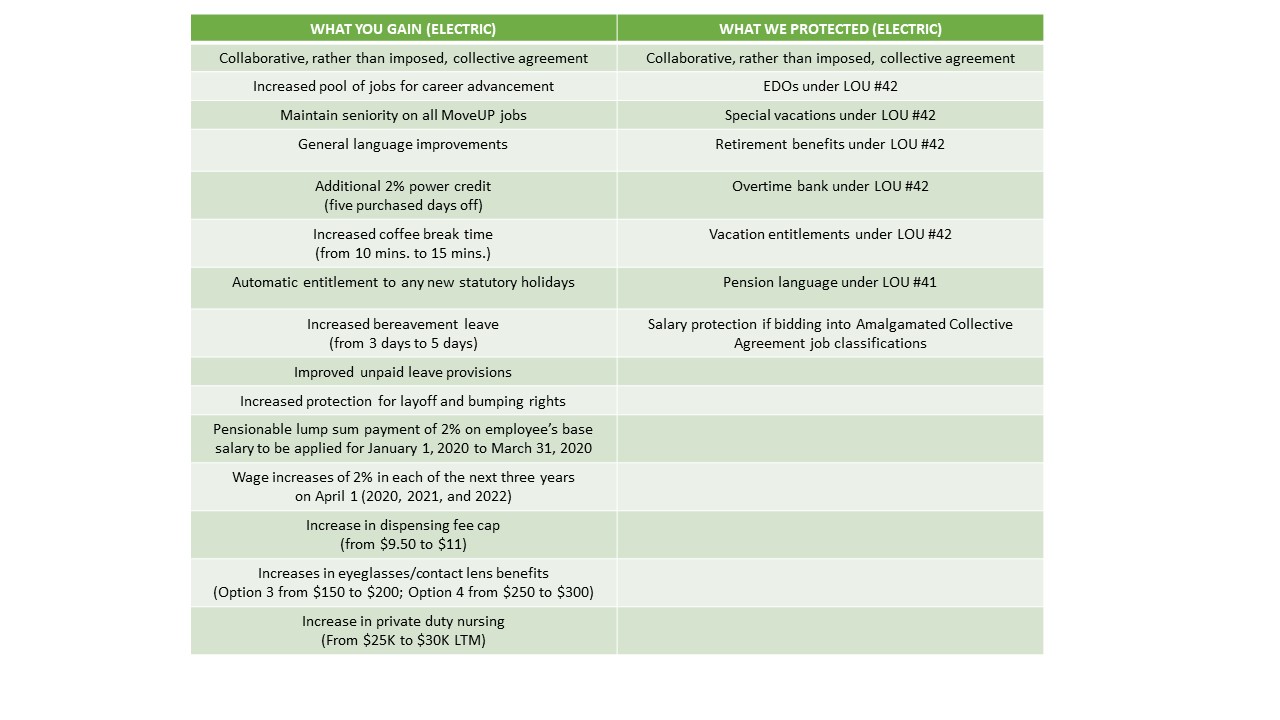 In solidarity,
Your FBC/FEI Amalgamation Committee:
Richard Gaylard, FBC
Kate Koczor, FBC
Janet Maloff, FBC
Dean Temme, FBC
Michael Carr, FEI
Carol Ross, FEI
Norm Stickelmann, FEI
Cindy A. Lee, Union Representative
Rysa Kronebusch, MoveUP Vice President – Utilities
---
File Number: 20-FBC-FBCE-BLTN-Amalgamation Update 9-February 14
Union Label: 20-FBC-FBCE-BLTN-Amalgamation Update 9-February 4, 2020
---