Bulletin
FortisBC/FortisBC Energy Inc. Amalgamation Update #10
---
February 26, 2020
To: All MoveUP Members at FortisBC Inc. & FortisBC Energy Inc.
---
Meeting Times, Dates and Locations
We will be coming out to conduct membership meetings at various locations to present the Amalgamated Collective Agreement and to answer questions.  We have been able to secure some meeting rooms at these various locations and the Company has agreed that the time spent will be Company paid.  Please note below the meeting times, dates and the locations for when we will visiting you: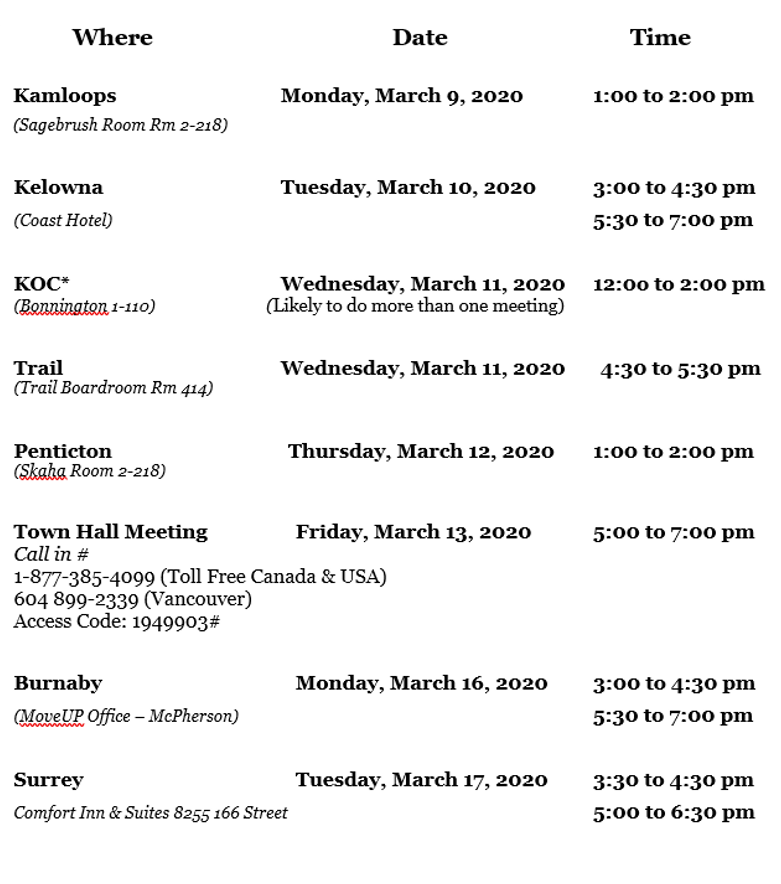 If you are unable to attend any of these meetings, please note that we will be conducting a Town Hall Meeting on Friday, March 13, 2020, as noted above.  In preparation for these meetings, please review the Amalgamated Collective Agreement found here.
How do I vote for the Amalgamated Collective Agreement?
The question being asked of the membership on the ballot will read as follows:
"Do you accept the proposed Amalgamated Collective Agreement?"
YES                               NO
You will only have the opportunity to vote in person or online.  If you wish to vote for the Amalgamated Collective Agreement through our online Member Portal, please see the section below on registering for the Member Portal to ensure you have access to voting.
The online voting will one on Monday. March 8, 2020 at 9:00 am and close on Friday, March 20, 2020 at 4:30 pm.
How to register for the Member Portal
There is a two-step verification process for registration for the Member Portal. You will require your membership number to register for the Member Portal. If you do not have your membership number, please email membership@moveuptogether.ca with the subject "Membership Card Request" and include the following information:
First and Last Name
Employer and Work Location
Home or cell phone number
Personal email address
Mailing address (Please ensure this is your residential mailing address, not your workplace mailing address. We will not send your membership card to your workplace.)
Your membership card will include your membership number.
IMPORTANT: When you log in to the Member Portal, double-check to ensure your work location listed is accurate. If you notice your work location is incorrect, please contact our Membership Department at 604-299-0378 or 1-800-665-6838.
We look forward to seeing you and answering your questions to allow for you to cast your vote.
In Solidarity,
Your FBC/FEI Amalgamation Committee:
Janet Maloff, FBC
Dean Temme, FBC
Sheena Demsey, FEI
Norm Stickelmann, FEI
Cindy A. Lee, Union Representative
Rysa Kronebusch, MoveUP Vice President – Utilities
---
File Number: 20-FBC/FEI Amalgamation Update #10
Union Label: ks usw2009
---