Workers begin rotating strike at VantageOne Credit Union
December 14, 2020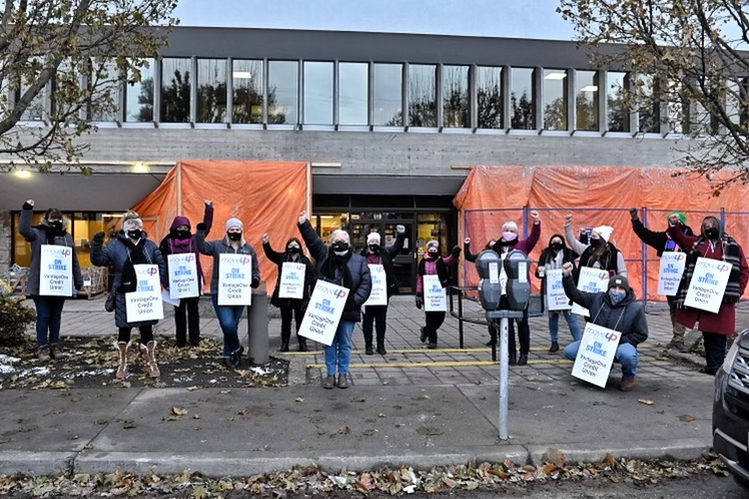 Unionized workers at VantageOne Credit Union, represented by MoveUP, have started rotating job action at the company's two Vernon locations (Vernon Main & North Vernon) effective 8 a.m. on Monday, December 14, 2020 and are calling on the credit union to provide basic job protection and fair compensation.
Negotiations on a new collective agreement have stalled after the employer refused to include basic job protection language for bargaining unit work which is standard in most collective agreements.
"When the employer is steadfast in their refusal to include even the most basic job protection language, that should be setting off alarm bells in the entire community," said Christy Slusarenko, Vice-President of MoveUP. "We have seen this tactic in the banking sector of employers trying to get away with cutting jobs and opening the door to outsourcing work outside their communities, and it is concerning because the people who get hurt are those who work, live, and contribute to the community here in Vernon."
The 34 unionized employees at VantageOne recently voted 100 per cent in favour of strike action, and also voted 100 per cent to reject the employer's attempt at a final offer. The previous collective agreement between the union and the employer expired back on November 30, 2019.
"What our members are really asking for is language in the agreement that acknowledges bargaining unit work should be performed by bargaining unit members," said Slusarenko. "They are also asking for fair improvements to wages and benefits that match their economic reality. Many of our members are part of young families, and they need good paying jobs in order to keep up with the cost of living so they can afford to stay here in Vernon.
"VantageOne is literally the Grinch who wants to steal Christmas but, instead of gifts, it's good jobs they want to take away. I applaud our members for not only taking action to stand up for their rights, but to stand up for their community as well. We hope the employer will return to the bargaining table and act in good faith not only with our members but in their relationship with the community as well."