Recap: Day 1 of the 2022 COPE SEPB Convention
June 2, 2022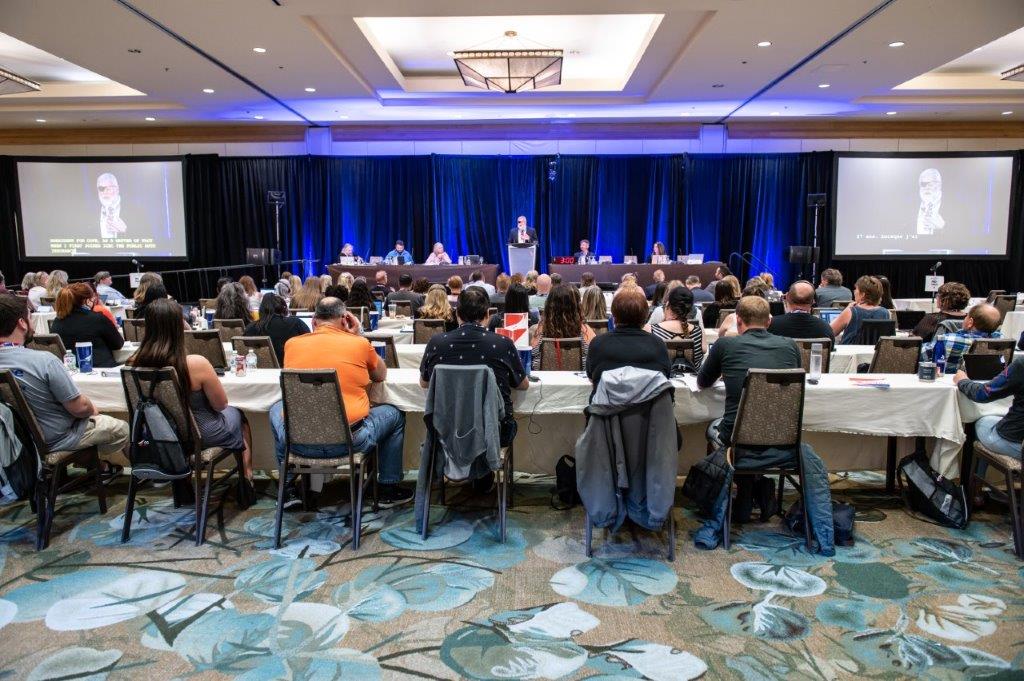 The 7th Convention of COPE SEPB kicked off in earnest on Thursday, June 2 after most delegates spent the previous day attending equity caucuses.
WATCH: Convention Opening Video (English)
After Shane Pointe, Knowledge Keeper from the Musqueam Nation, provided a traditional welcome, the first speaker on the agenda was Stephen von Sychowski, President of the Vancouver & District Labour Council (VDLC).
Stephen provided an update on the work that the VDLC was focusing, emphasizing the importance of the municipal elections in BC coming on October 15. He also talked about the VDLC's labour education program, and spoke to the importance of equity and how it is informing the work of the labour council.
WATCH: Address from Stephen von Sychowski, President of the Vancouver & District Labour Council
Bea Bruske, President of the Canadian Labour Congress, was the next to address delegates at Convention.
Bea mentioned this was her first engagement, as she was getting set to head over to Victoria following her appearance in anticipation of the passing of the card check certification by the BC government. She spoke about the impact that the CLC's activism has had in informing the key priorities of the federal NDP in their new Confidence and Supply Agreement with the federal Liberals, noting movement on issues including child care, pharmacare, dental care, and anti-scab legislation.
WATCH: Address from Bea Bruske, President of the Canadian Labour Congress
The Report of the National President was the biggest item of the morning. In his address to delegates, National President David Black formally informed delegates of his plans not to run for re-election in his position.
The focus of his speech was on the work that our union has done on diversity, equity, and inclusion, and the continued work that needs to be done to ensure that equity-seeking voices are heard and how we must continue to be allies, whether it's standing up for Indigenous rights or 2SLGBTQIA+ rights, or taking a stand against hate and attacks on Black communities and Asian communities.
He spoke about the challenges our union has faced in the last three years with the COVID-19 pandemic and the ramification on our bargaining units, the difficulties that some of our locals have endured but also the successes – such as MoveUP's Driving Public campaign – that have been made possible by our union coming together in solidarity.
He closed out his speech by urging our union to continue the work of making our union an equitable one, where all voices can feel respected and heard, and to embrace our union's diversity, rather than seeing it as a challenge to be overcome.
WATCH: Report of the National President, David Black
Vancouver Mayor Kennedy Stewart also provided video greetings to delegates. He specifically thanked President Black for his work in ensuring that public services in BC such as ICBC, BC Hydro, TransLink and other public services in BC from being dismantled by the BC Liberals. Mayor Stewart also acknowledged the work of National Secretary-Treasurer Pierrick Choinière-Lapointe for his work in standing up for everyday people. He closed by stressing the importance of the work of the labour movement, and of his commitment to supporting working people in his role as mayor of Vancouver.
WATCH: Address from Kennedy Stewart, Mayor of Vancouver
A video greeting to delegates from Atle Høie, General Secretary of IndustriALL Global Union, was also played for delegates.
To start off the afternoon, Pierrick Choinière-Lapointe delivered the Report of the National Secretary-Treasurer, noting the strong state of the union's finances and foreshadowing the constitutional resolutions delegates would be voted on later on.
WATCH: Report of the National Secretary-Treasurer, Pierrick Choinière-Lapointe
Ivan Coyote, world-renowned writer and performer in the 2SLGBTQIA+ community, delivered a rousing keynote speech where they talked about upbringing in the Yukon, where they felt a sense of home and yet still had to leave at a young age because no one had been there before they were to make that a safer place.
They spoke about the importance of building community, workplaces, and schools over the need to glorify resiliency. They also shared a several stories about their 2SLGBTQIA+ advocacy, encouraged delegates to look at who was not in the room, and talked about our opportunity to build systems that actually represent real people who we serve.
WATCH: Keynote Speaker – Ivan Coyote
Constitutional Resolutions made up the key part of the work for delegates on the first day. These resolutions were put together in order to reflect our desire to improve diversity, equity, and inclusion coming out of the 2019 COPE SEPB Convention.
MoveUP Secretary-Treasurer Lori Mayhew was among the delegates that spoke in favour of the constitutional changes, noting that the changes would ensure all voices are heard and that having more money freed up for locals to use instead of being sent to national would better help support our members.
All the resolutions debated passed unanimously. The notable changes include:
Each region will have two vice-presidents including at least one person who is not a cis man, and at least one person who identifies as a member of an equity-seeking group (First Nations, Métis, Inuit, women, racialized people, Two Spirit, lesbian, gay, bisexual, transgender, queer, intersex, asexual, people living with a disability, or young workers);
Removal of the vice-president for seat reserved for women (to reflect the change above);
Changing the per capita tax collected by the local union to $2.60 per person, per month (from $3.75 previous) effective July 1, 2022;
Setting the per person, per month payable to the defence fund to $0.00 effective July 1, 2022 (allowing for a $2 per person, per month contribution should the defence fund falls below $10 million for three consecutive months, until such time the defence fund reaches or exceeds $12 million for three consecutive months);
Removing the $75 per local union per month fee to be paid to the Convention fund; and
Updating language for Canadian Equity Council national executive members.
Vice-Presidents for Region 1 and Region 2 also presented their reports to Convention. All written reports can be found here.
Follow our Convention 2022 page for more.