Period Promise campaign: May 6 to June 7
May 6, 2022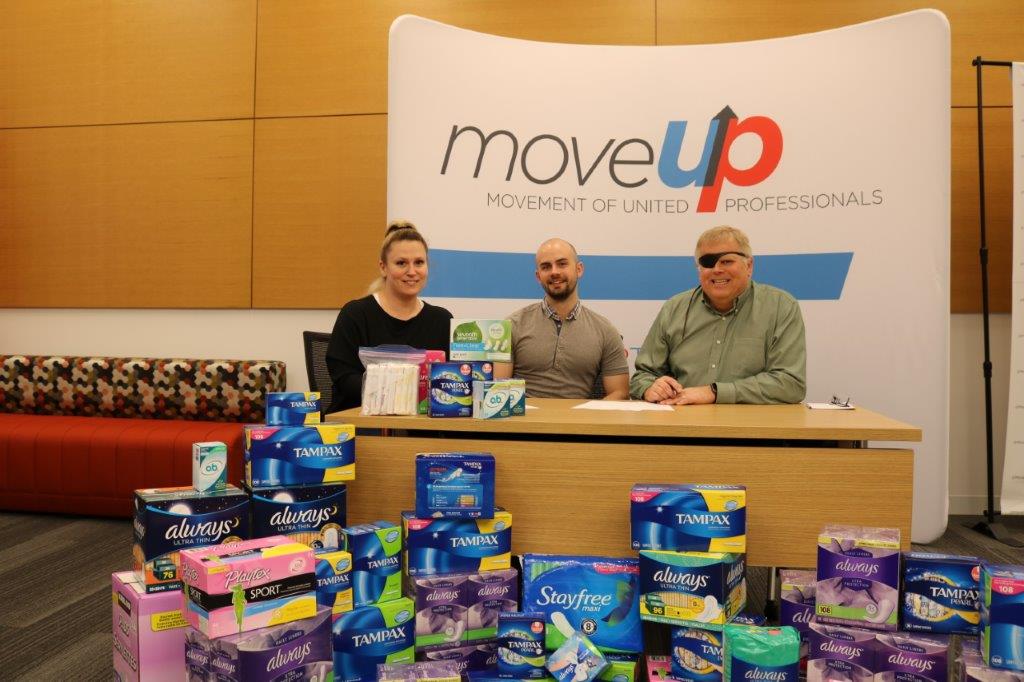 Support the United Way Period Promise Campaign
MoveUP is proud, once again, to participate in the United Way Period Promise Campaign. Our goal is to support everyone who menstruates – women, girls, non-binary and transgender people. There are several ways that you can help, so please join us today in this important campaign to end period poverty.
Periods are a fact of life, and for those living in poverty – or for those who are vulnerable in other ways – access to necessary menstrual products can be challenging. Sadly, the COVID-19 pandemic has made this more difficult.
The fact is that not having the products that you need when you need it can be difficult and is sometimes embarrassing. Too many single mothers must choose between buying tampons or food for their families. Too many trans and non-binary kids are scrambling silently in washrooms and putting together makeshift pads that do not suit their needs. Too many families miss out on social events because it is easier to stay home than risk bleeding in public.
The United Way Period Promise campaign mobilizes us to be a part of the solution. Together, we can tackle period poverty and make our community more accessible for everybody.
How we, and you, can help
Our Period Promise campaign is from May 6 to June 7, and there are two key ways that you can help and be part of the solution to end period poverty.
Donate financially:
One of the ways to help is to donate to this important campaign. If you are able to give financially, any help, whether it is big or small, will make a difference. We have made it easy donate, simply click on this unique URL to contribute: By using this code, we will be able to see how successful MoveUP's campaign is. So, click on the web link above and the United Way can identify the donations that MoveUP members make and then they will be able to purchase products through their partnerships at a discounted rate.
Donate product:
Another way to help is to collect products. We encourage you to do this in your workplace or with your friends and families or in your community. MoveUP's Women & Gender Rights Committee will be holding an event to collect products in the lower mainland. We will provide the details closer to the date, as we will ensure to follow all safety and public health protocols that are in place at that time.
Let us know if you plan on organizing collections in your workplace. The United Way has resources and a toolkit to help your planning. Check out their toolkit website here.
What your support means:
With the help of thousands of donors, United Way has been able to distribute more than 1.2 million menstrual products to community organizations in the Lower Mainland, Fraser Valley, and Sea-to-Sky Corridor. We are committed to making it easier for everybody to access the product they need when they need it. Let's help the United Way reach an even higher goal this year. Your support will improve the health and well-being of people and your support will make it easier for them to stay engaged in their communities.
In solidarity,
Christy Slusarenko, Vice-President, Combined Units
Chair, Women & Gender Rights Committee