Orange Shirt Day 2019
September 30, 2019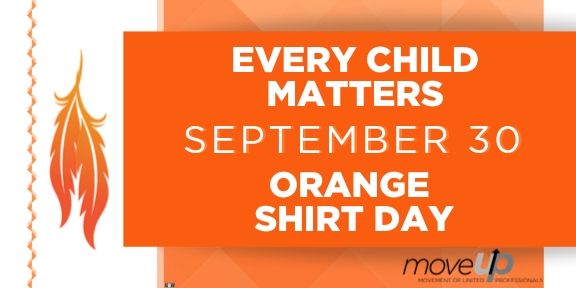 MoveUP's Human Rights & Multicultural Committee acknowledges Monday, September 30 as Orange Shirt Day.
This day, recognized annually, and the events surrounding it serves as a way to commemorate the residential school experience and the atrocities committed with it and is part of the ongoing process of reconciliation with First Nations people in Canada.
The genesis of Orange Shirt Day came from the experiences of Phyllis (Jack) Webstad who, as a six-year old attending her first day of residential school in Mission in 1973-74, proudly wore a bright orange shirt that had been bought for her by her grandmother. However, when she got to the school, she was stripped of her clothes including the orange shirt which was taken from her and never returned.
The colour orange came to symbolize for her how her feelings didn't matter, how no one cared about her and how she felt like she was worth nothing. It was an experience shared by all those who attended residential schools.
Orange Shirt Day provides an opportunity to create conversation about the residential school experience and its legacy. It is a day for the survivors to know that they do, in fact, matter and that every child matters. It is also a day for First Nations, local governments, schools and communities to all come together and reaffirm our commitment to true reconciliation with First Nations people in Canada.
This September 30, whether you are at work, at home, or spending the day out with family and friends, we encourage you to wear orange and to reflect on this painful chapter of Canadian history and the lessons we can learn from it to continue the healing and reconciliation process with First Nations people and to create a better, more inclusive future for all who call this land home.
Learn more by visiting www.orangeshirtday.org.