Know your rights – Time off work for voting on Monday, October 21
October 16, 2019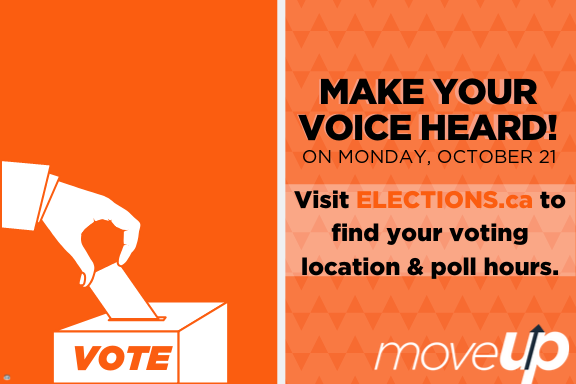 MoveUP's Political Action Committee can't stress enough the importance of voting. This is how, as citizens, we raise our voice, and how we decide who will speak for us fairly and equitably. Voting is the fundamental basis of a democracy.
Voters are entitled to three consecutive hours free from work to vote on General Voting Day this Monday, October 21. The chart below lists the voting hours according to Elections Canada. However, you should refer to your voting card for precise voting hours. (Voters in Kootenay-Columbia need to check their voter card for the exact time, as that electoral district straddles two time zones.)
This does not necessarily mean three hours off work. It means that there must be a three-hour period, free from work, during voting hours. Time off may be at the beginning or end of an employee's shift, or it may be unnecessary if normal working hours already provide enough time free from work to vote.
For example, if a shift ends at 4 p.m., or does not begin until noon, the employee is not entitled to any time off. Employers can decide when their employees can take time off to vote.
It is an offence if your employer deducts your pay or penalizes you for taking time off to vote. You are entitled to your regular compensation for any hours not worked during this time.
Employers and employees are encouraged to discuss how staff can exercise their right to vote to ensure that the requirements of the Election Act are met.
Exceptions
There are exceptions to the general rules outlined above. For example, if a voter is in such a remote location that they would not be able to reach any voting place during voting hours, they are not entitled to any time off for voting.
What to do if your employer is refusing to provide time off
If your employer does not provide you with the necessary time off for voting, you may contact Elections Canada. They will contact your employer to outline their obligations under the Canada Election Act. These obligations are found in Sections 132 to 134 of the Canada Elections Act, and there are penalties for employers who contravene the Act.
For more information, check out the Elections Canada website at www.elections.ca.
What type of ID do you need in order to vote?
Option 1: Show one of these photos of ID
Your driver's license OR any other card issued by a Canadian government (federal, provincial/territorial or local) with your photo, name and current address.
Option 2: Show two pieces of ID
Both must have your current name and at least one must have your current address. Examples include: Voter information card and bank statement; Utility bill and Student ID card. For a full list, click here.
Note: Your name must match exactly on both of your pieces of ID.
Option 3: If you don't have ID
You can still vote if you declare your identity and address in writing and have someone who knows you and who is assigned to your polling station vouch for you. The voucher must be able to provide their identity and address. A person can vouch for only one person (except in long-term care institutions).
IMPORTANT NOTE: You do NOT need to be pre-registered in order to vote. You can register at your polling station on Voting Day, and the process is typically simple and easy!
In solidarity,
Political Action Committee Co-chairs:
Lori Mayhew, Secretary Treasurer
Rysa Kronebusch, VP Utilities