HAPPY PRIDE Vancouver
August 2, 2019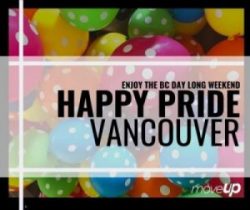 B.C. Day and Vancouver Pride Weekend
MoveUP wishes all our members a happy and enjoyable long weekend. If you are at the Vancouver Pride Parade, make sure to come by and say hi to our marchers!
It has been 50 years since the Stonewall riots sparked the LGBTQ2S+ community to come together and demand equal rights. Though there has been some progress since 1969, there is still a lot of work that remains.
This year, our parade commemorate the Stonewall riots as well as continue our push to #EndTheBloodBan because We Are All Part Of Canada's Lifeline. Our union has worked hard to campaign the government of Canada to end the blood ban against men who have sex with men. You can help us by adding your voice!
We are also committed to fostering safe environments and fighting for fair treatment for all extends beyond just the workplace. Every day, transgender, non-binary, and gender non-conforming people face difficulties accessing safe toilet facilities because they are insulted, harassed and even assaulted when they try. If you see someone being bullied, be an ally, stand up and help them get out safely. Another step you can take, join our #IllGoWithYou campaign by emailing us for tent cards or buttons and identify yourself as someone they can rely on for support when accessing a public toilet facilities.
Wear your PRIDE this long weekend!