Capilano University sticks with absurd claims; refuses to return to bargaining table
June 14, 2023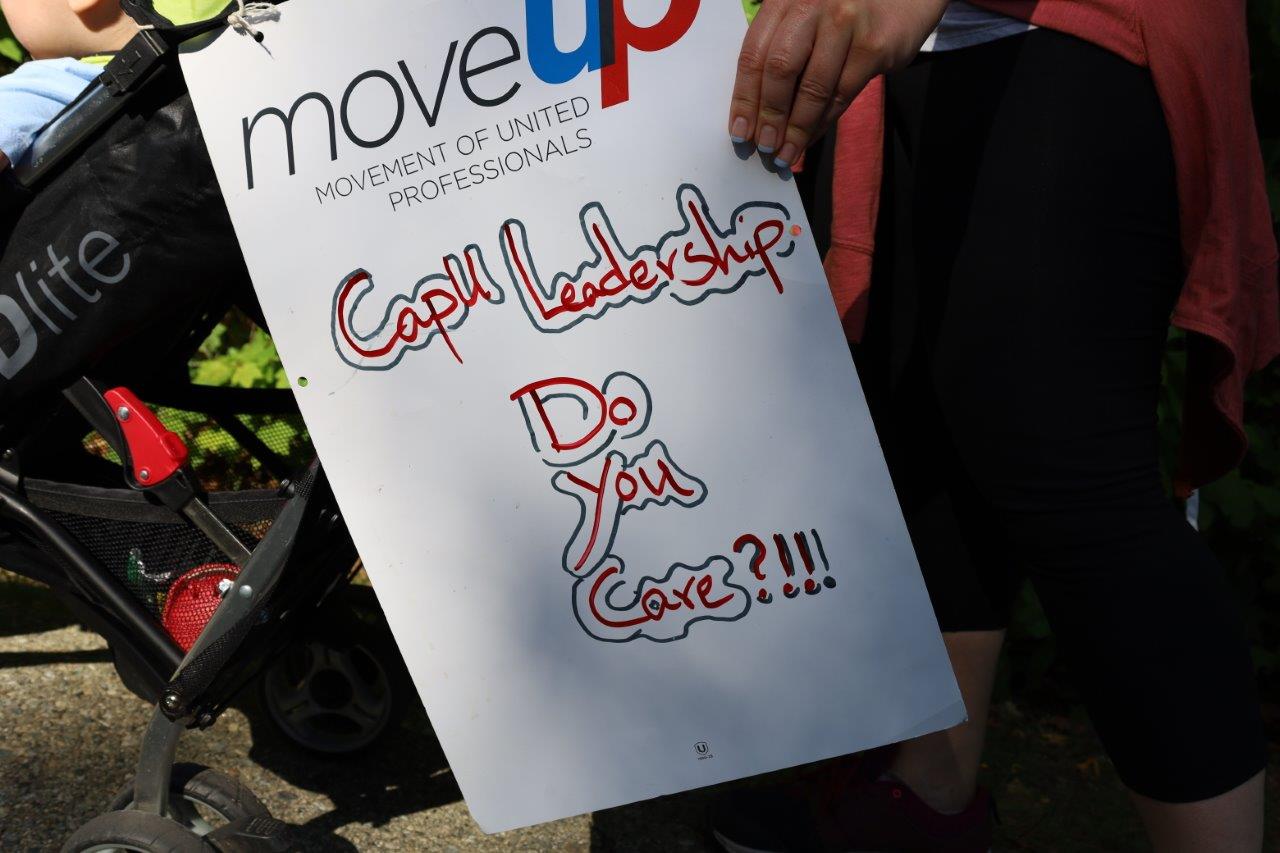 Over one week has passed since MoveUP members who work at Capilano University commenced full strike action on Tuesday, June 6. Sadly, Capilano University has refused to return to the bargaining table. There is only one issue remaining, everything else has been agreed upon. That one issue is to put rules in the contract to enforce how any remote work will be done.
MoveUP and Capilano University have even agreed on the remote work language, but the University refuses to put it in the contract.
"The University wants a policy that can't be enforced," said MoveUP Vice-President Christy Slusarenko. "Having language in the collective agreement means that workers have a process to grieve if they feel the employer is not abiding by the agreement."
But this also means that the University has a set of clear rules that workers and management will have to follow. When you refuse to put it into the collective agreement, it means you don't believe workers have a right to a fair process and the University could arbitrarily change it.
Despite being a self-proclaimed champion of remote work at the outset of the COVID-19 pandemic, Capilano University now tries to hide behind other universities by claiming none of them have enforceable remote work rules. However, they ignore the fact that universities are part of the public sector and are all covered by the same provincial public sector mandate. Many other public sector institutions have negotiated remote work language into their collective agreements. The health sector has them, ICBC has them, the Workers' Compensation Board has them, and federal government employees will soon have them as well once they ratify their new agreement. You can't have a foot in both places.
"Apparently Capilano University thinks they are better than everyone else. Senior management at Capilano University acts like a magician who tries to fool everyone by saying don't look over there—nobody has these rules and that is just false," said Slusarenko. "The fact is many public sector workers have remote work language in their contracts because smart organizations simply want clear rules so that they can get on with doing the work. It doesn't matter what sector you work in, either it is a set of rules, or just a piece of paper that upper management can rip up anytime they want."
A recent example of public sector employers including remote work in their collective agreement is the tentative agreement with the federal government. The Public Service Alliance of Canada (PSAC) negotiated remote work language directly into the contract with the federal government: https://psacunion.ca/psac-remote-work-agreement-watershed-moment
The University has publicly admitted that hybrid work arrangements have been in place and have been working since September 2021. But the University has recently been quoted contradicting themselves by saying remote work rules "has the potential to compromise service delivery at the university" even though they have been working and multiple other public sector employers can make it work.
"Do universities think they are so special?" said Slusarenko. "The truth is that running a hospital or even the federal government is way more complicated, but they can figure it out."
Picket lines remain up until further notice at the Capilano University main campus in North Vancouver, CapU Lonsdale, and the Sunshine Coast Campus (Sechelt).