Young Workers Work Together for Change
November 25, 2012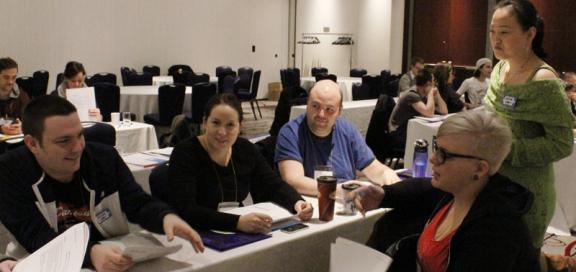 The theme of the BC Federation of Labour's Young Workers Conference on Sunday, November 25, was "Connecting With and Changing Communities." One goal of the day was to get youth delegates ready for the BC Fed convention in the coming week. Participants were split into mock unions and spent time caucusing on a small selection of the resolutions coming forward to Fed convention. They then took part in a debate on the resolutions that gave everyone a chance to practice mic procedures and rules of order.
"Never being to a convention before and not knowing the rules I'm learning so much," said FortisBC Electric and MoveUP board member Stephanie Smith.
After a short break, BC Federation of Labour President Jim Sinclair addressed the conference. He started by saying that youth have an important place in the labour movement, not just as the "leaders of tomorrow":
"You're the leaders today too. You don't get to check out of leadership just because you're young."
"This is a movement about rights and about standing up for people's rights wherever they are," Sinclair added. He pointed to situations where young people have stood up against unfair situations in the workplace, such as criminal negligence of employers resulting in injury or death of workers.
Sinclair also talked about the importance of working with students on issues around unemployment and affordable post-secondary education.
Sinclair praised the work of the Employee Action and Rights Network (EARN) in helping vulnerable non-union workers know about their rights and applying the pressure that led to an increase in the minimum wage. EARN spoke out on the watering down of "Grant's Law" protecting late-night retail workers.
"These workers shouldn't be invisible," Sinclair added.
Finally, Jim Sinclair spoke on the importance of being involved in the labour movement and in politics, looking forward to the importance of the May provincial election.
"This election will determine a lot. It will determine the kind of province we have, the kind of rights we have. It will particularly determine what happens to young people," he said.
"You really inspired me. I started thinking about all the people in my life who aren't unionized," said a young MoveUP member after Jim's speech.
Just before lunch the young workers listened in a panel featuring East Vancouver-based activist and organizer Ajay Puri, "ShitHarperDid" founder Sean Devlin, and Musqueam activist Rhiannon Bennet.
Bennet started out talking about her band's fight against the development on the "Marpole midden", which was a traditional village and burial site.
"Our first step in our community engagement was to come together and have a meeting," Bennet said. Together they came up with key messages that could be communicated in a sound bite to passersby. Bennet herself spent hours speaking to drivers on the issue, communicating their message quickly and effectively.
In March, after the developers violated a "cooling-off period" the community members escalated their action. Bennet emphasized it was a thoughtful process of escalation, including marching to the Legislature, and finally shutting down the Arthur Laing bridge twice after all other options were exhausted.
"We wanted to make sure the actions that we took were respectful to show our ancestor s that we've learned our lessons and that we're respectful people," said Bennet.
"First and foremost, we know how to take care of ourselves…we don't need people coming in and telling us what to do and how to do it," Bennet added. She called the work labour and environmental groups are doing on pipeline issues part of a process of reconciliation where we stand in solidarity with Aboriginal people and take their lead.
Puri talked about his experience getting everyone dialoguing on multiculturalism, saying he believes asking people open questions is one of the best ways to move forward and build for equality. One project he talked about in particular was the push to build greater diversity in the environmental movement.
Devlin also talked about his work with the environmental movement, starting with putting his energy into involving diverse voices in the Copenhagen talks a few years ago. After the failure at Copenhagen Devlin sought help for depression. One doctor recommended he disengage from the issues but Devlin said he feels like he doesn't have a choice.
"I went to a doctor and that doctor prescribed me apathy…What I realized in that moment, especially for young people, to be acutely aware of how bad things are right now is to be overwhelmed," Devlin said. Devlin argued that young people do care but apathy in that sense is a type of self-defense.
"Our responsibility is to show them meaningful ways they can take action, but more importantly effective ways," he added, "Sometimes the solutions for action don't match up to how big the problem is."
The highlight for the day was Brigette DePape, the former Parliamentary page who made news by holding up a "Stop Harper" sign during the Throne Speech.
DePape started working as a page because she wanted to make a different. While there she said she felt an "intense culture of fear" of speaking out against the Harper agenda.
"It was really because of joining with other young people that this was possible," she said of the action. She said the planning with other young people was exciting and that the media response was overwhelming.
"It showed we can control the media and put our message and our issues forward by choosing not to obey an unjust government."
Since her initial protest, DePape says she's been working more and more with young people who are determined to stand up to Harper and change the way our society works. She also thanked unions for applying their organized structures and communications networks to the struggle: "I believe that we're going to stop Harper, and I believe that we're going to stop Christy Clark."
Later in the afternoon BC Fed Political Action Director Summer McFadyen led a workshop where participants practiced skills and talking about issues.
McFadyen identified four key issues the labour movement is working on: the labour code, employment standards, occupational health and safety, and skills training and apprenticeship.
Overall MoveUP members found the day informative and inspiring:
"It was really fun to use the mock unions as an educational experience for new members and also to refresh a lot of the procedures and rules that I had forgotten about as well," said Erin Searle.
Board member Trevor Hansen also enjoyed his day: "I was most inspired today by the guest speakers that met with us, including Sean Devlin who (created?) 'Shit Harper Did', as well as Bridgette DePape, the former Senate page who held up the 'Stop Harper' sign during the throne speech. Hearing these young workers share their experiences makes me feel that we can accomplish so much when we do it together."