Worker's Rights Are Human Rights
November 30, 2010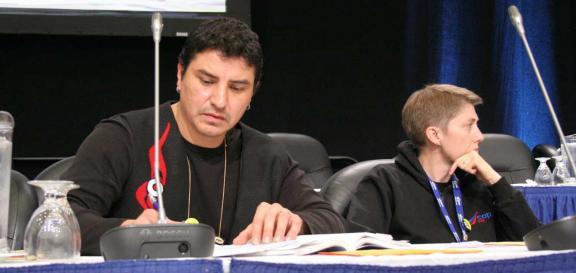 The Human Rights Committee took the stage to deliver their report right after delegates watched a poignant video from the United Way, reminding delegates of the imperative of supporting dignity and rights for all.
When tabling the report, Committee co-chair Dileep Athaide recounted the recent visit the Committee paid to the Minister of Labour to articulate their many concerns about workplace human rights, and to advocate for legislation which would better protect the human rights of workers in BC.
The Human Rights Committee told delegates about some of the steps the BC Federation of Labour has taken to better protect the human rights of delegates, including a special needs form on delegate credentials.
The Committee tabled several recommendations, including:
working with affiliates to oppose attacks on equity rights;
supporting affiliate education programs which advocate for human rights by addressing the many barriers to participation, including layers of oppression and privilege; and
setting up a strategic plan to reach out to under-represented groups in the labour movement.
Several delegates got up to speak to the report, support the recommendations and ask the Committee to go further in their work. Speakers rose to address the impacts of workplace bullying, the need for a human rights super-tribunal to deal with workplace human rights complaints, and the continued injustices to aboriginal communities on- and off- reserve.
Following the report, the Committee introduced resolutions asking the Canadian Labour Congress to lobby the federal and provincial governments to make human rights a priority, work with global allies to protect the human rights of LGBTQ people in Uganda where the government is debating an Anti-homosexual law, and condemning attacks on anti-racist activists in Abbotsford and to work with allies to campaign against racism.
The report, recommendations, and resolutions passed with fulsome support.
Pictured above: Human Right's Committee Members Darren Patrick, MoveUP Staff Representative, and Elaine Fraser, MoveUP Board Member