Woman of Distinction: MoveUP's Ardell Brophy
June 2, 2010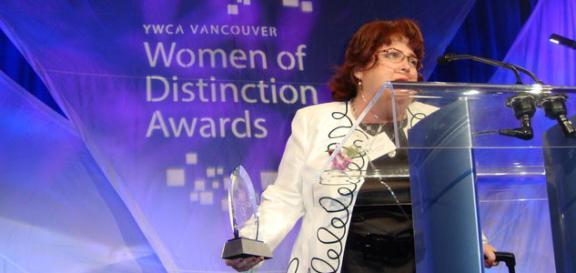 MoveUP is thrilled to celebrate Union Representative Ardell Brophy's YWCA Woman of Distinction award in Arts, Culture and Design. The Awards seek to recognize inspirational women.
Ardell's nominators included David Granirer of Stand-UP for Mental Health, Trish La Nauze, Executive Director of Charlford House, Lee Ann Keple, Laff Riot Girls, Marlie Oden, Bridge Communications, Dawn Black, MLA, Patti Dixon (77 year old comic) and Pat Junnila, MoveUP. In an acceptance speech buoyed by her trademark humour – at the podium she quipped, "Does this oxygen tank make me look fat?" – Ardell thanked her nominators, her union, USW 2009, and her employer, MoveUP.
Ardell truly is an inspiration and worthy of the award. She donates her talents as a standup comedian to raise money for countless causes and has mentored many up-and-coming female comics. She served MoveUP first as an Executive Board member before becoming a Union Representative, a job she has held now for over 18 years. Ardell lives with pulmonary fibrosis
Vancouver Sun: Women of Distinction Honoured
MoveUP extends heartfelt thanks to all who took the time to vote online for Ardell. Your support helped gain her well-deserved recognition and accolades.
Photo credit: right and bottom, Joshua Berson