Victoria MoveUP Members Bring Home Trophy from Tournament of Hope
August 13, 2013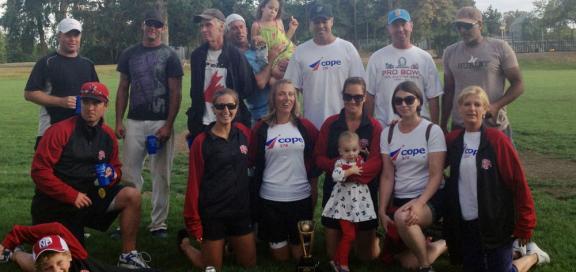 It was a beautiful Friday evening in Victoria when MoveUP members, their spouses and other family members filed in to the Topaz Park for the Michael Dunahee Slo-Pitch Tournament of Hope for their first game. The group of thirteen would be spending their weekend at the Tournament, playing as a team to raise funds for Child Find BC. The members came from a variety of workplaces: CUPE, BC Transit, Accenture and ICBC.
Child Find BC helps search for missing children, advocates for prevention and raises. The organization's president is Crystal Dunahee, whose son, Michael, went missing in 1991. This was the 22th annual tournament and brought together 24 different slo-pitch teams, all sponsored by union locals.
The MoveUP team won their game on Friday night. Saturday's event started with a remarkable feat when four skydivers descended into the park from the bright blue sky carrying the game ball. The field was full of plates children had scattered earlier. Each skydiver then picked up a plate – which had been purchased with a donation to Child Find BC – and the owners of the picked plates won a prize. It was an exciting and innovative way to win begin the tournament.
The MoveUP team quickly pulled ahead in the tournament by winning each game – one on Friday, two on Saturday and three on Sunday. The team was claimed the title of Division A victors on Sunday at the close of the tournament. Congratulations to all who took part.