Union Successfully Defends Members' Benefits at Southern Railway
April 1, 2015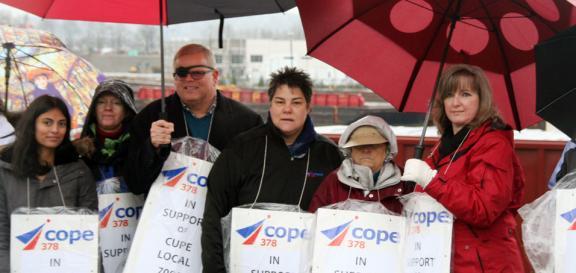 When CUPE 7000 members were locked out by Southern Railway on January 5, after refusing to accept significant contract concessions, MoveUP members at Southern Railway stood up in solidarity. MoveUP members have been walking the lockout picket line with their CUPE 7000 coworkers for the last three months.
Generally, during a strike or lockout, employees' health benefits are maintained by their employer, which their union reimburses for the premiums. However, in mid-January, MoveUP members got notice that Southern Railway would be terminating their extended health and dental benefits.
"Attacking our members' benefits and not even coming to us to try to work something out was a pretty low blow," said MoveUP Union Representative Cindy A. Lee.
Southern Railway had thought they found a gap in the Labour Relations Code that they might be able exploit: a lack of clarity about benefit eligibility for employees who are respecting a legal picket line but are neither on strike nor locked out themselves. MoveUP believed denying benefits was a violation of Southern Railway's obligations under the collective agreement and the Code, but its first concern was making sure the loss of benefits didn't force members and their families to put their finances, and potentially their health, on the line. MoveUP obtained a stop-gap extended health plan for members and made arrangements to pay emergency dental expenses from its own resources.
They also took the matter to the Labour Relations Board, and on March 31, 2015, Arbitrator John B. Hall ruled in MoveUP's favour. Hall said that Southern Railway should not have denied benefits to MoveUP members who were respecting CUPE 7000's legal picket line, and directed them to maintain benefit coverage, with the union paying the premiums.
"We're very pleased about this ruling. Taking job action is stressful, and workers shouldn't also have to deal with changing benefit providers or worrying they might not be able to afford the medical services they and their families need," MoveUP President David Black said.
"In the end, these bullying tactics didn't shake our members' resolve and they will continue to stand up with their coworkers for a fair collective agreement," Lee concluded.