Transit Stories: Tina drives through 4 to 5 cities every day for work
March 5, 2015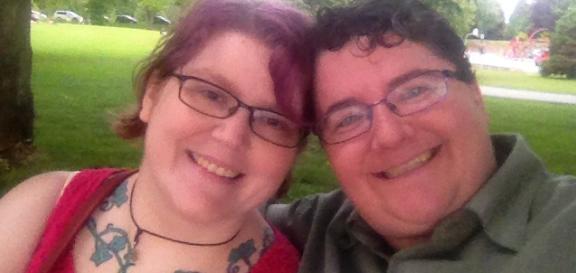 Tina Johnston is a photocopier technician. She lives in Burnaby and drives all over Metro Vancouver for work. She's pictured here on the left, with her wife.
I have to drive for work. The photocopy machines aren't going to come to me. Depending on the number of call-outs I have I'll drive between 25 to 50 kilometers a day and I'll visit up to 4 to 5 different cities. For instance, I'll have to get from my starting point in Burnaby to New West, then Coquitlam, then back downtown. I also cover North Vancouver, Squamish and Port Coquitlam. Downtown is the most troublesome to get to, by far.
The worst commute times are, no surprise, during the morning and evening rush hours. Bridges are the worst. The absolute worst. They bottleneck because of congestion and if there's one accident, there goes one-third of my day. Lougheed Highway isn't great, either but the Number 1 Highway is a bit better now. I use side streets and shortcuts to get where I need to go, but that's not a real solution. Residents don't want more cars on their quiet streets because our main roads can't handle the traffic.
Getting more people out of their cars, off the roads and onto transit would be a huge help to me and every other person who has no choice but to drive. You can tell how much of an impact it would make by the days when there's no school. Traffic drops in a big way. It's really noticeable.
When I think about one million more people, with 500,000 to 600,000 more cars moving to the region over the next 30 years it terrifies me. It's scary. This impacts my work, my stress level and my health. It means more smog and more congestion. It's not good.
Less traffic and congestion would mean that I could get my job done more quickly, my boss could book me for more call-outs and my company would make more money. And it would also mean less stress for all the drivers out there, and fewer accidents. Less road rage. Every day I see people get frustrated and try … let's call them "ill-advised" moves to get around traffic. Frustration can cause accidents.
I live by the SkyTrain in Burnaby so whenever I can use it to get around, I do. My wife and I use it to get downtown, to see friends, to run errands. If transit is frequent and available, people will use it. The bus system isn't as easy for us to use as SkyTrain.
I think people who need to drive for work should vote Yes in the transit referendum because the Mayors' plan has money to get major roads fixed and to upgrade bridges. That would be great and it will make a big, positive difference in our day-to-day lives.