Time to Fix EI
August 7, 2014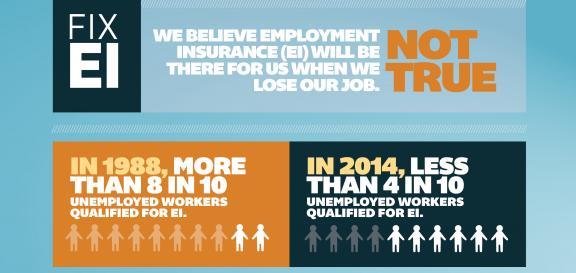 Statistics Canada data released in July shows that less than 40% of Canada's jobless are eligible for Employment Insurance, even though the vast majority of workers pay into the program. Never before has Canada seen such a small proportion of the unemployed receiving Employment Insurance (EI) benefits.
New infographics from the Canadian Association of Labour Media (CALM) lay out the problem: we expect EI to be there when we need it, and we pay for that when we're working, but the way the system is set up isn't fair.
Lower income people are actually paying a higher percentage of their income to EI premiums compared to higher income earners. Women are less likely than men to be eligible for benefits. According to information collected by CALM, "Workers in Canada, if they meet the stringent eligibility requirements, can today expect to receive just 55 percent of their earnings up to a maximum of $500 per week for no more than 45 weeks—although workers can now be cut off sooner due to a series of new, restrictive rules." The average payout in 2011 was $351/week, certainly not enough to keep a family out of poverty.
Meanwhile, the federal government has amassed a surplus of nearly $60 billion of workers' EI premiums.
MoveUP is an affiliate of the Canadian Labour Congress, which has been working hard to pressure the federal government ot fix the broken EI system. The CLC is calling on the Conservative government to:
Provide regular benefits on the basis of 360 hours of work, no matter where workers live and work in Canada.
Raise benefits immediately to 60% of earnings calculated on a worker's best 12 weeks.
Increase the period for which benefits can be collected to a maximum of 50 weeks.
Invest part of the EI surplus on better training and labour adjustment programs.
Expand support and funding for work-sharing arrangements under EI to reduce layoffs, and build links between work-sharing and training programs.
You can help by signing the NDP's petition to the government to fix EI. Read more about the CLC's EI campaign here.