The Real Facts on the Strike at the BCNU #1
July 26, 2016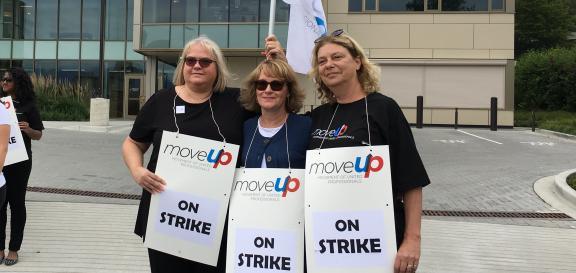 1) We are asking to keep what we have.
MoveUP members are not asking for anything new when it comes to medical appointment and family obligation leave. The BCNU leadership is trying to roll back what they previously negotiated for us.
2) This is not about money.
This is about fighting a roll back of our agreement. MoveUP members never had a chance to negotiate wages before the BCNU leadership locked them out and tried to force them into a final offer contract.
3) We have asked the BCNU leadership to come back to the bargaining table.
MoveUP has told the BCNU leadership that we are ready to bargain anytime, anywhere. We have actively encouraged them to resume negotiations on a number of occasions.
4) The BCNU leadership forced this strike.
The BCNU leadership refused to return to the bargaining table and locked us out. They ordered us back to work under their conditions. MoveUP members had little choice but to strike.