Support the United Way this Holiday Season
December 12, 2012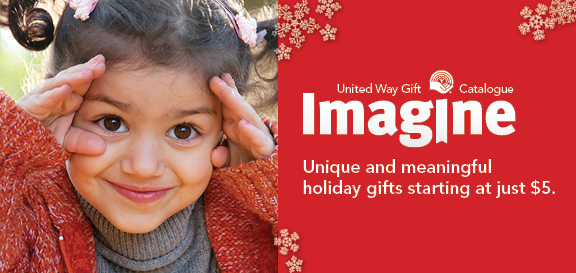 As part of our ongoing support of the United Way, MoveUP is pleased to feature the Imagine United Way gift catalogue.
This holiday season, share the joy of helping our neighbours in need by giving a gift on behalf of family or friends through the United Way Imagine Gift Catalogue. Every Imagine Gift is a chance to change someone's life right here in our community.
Click here for the Imagine Gift Catalogue.
Your gifts will help people in the Lower Mainland who struggle with the following issues:
Poverty
One in five BC children lives in poverty. United Way helps break the cycle of poverty by ensuring that children get the best start in life by investing in early learning, skilled parenting and caring services so that children are nurtured and families strengthened. Learn how to help break the cycle of poverty.
Bullying
More than one-third of children in Grades 4 to 7 are bullied or bully others. United Way helps children end destructive behaviours by ensuring kids make the right choices. By investing in safe places and supportive programs where children feel they belong, find great role models, and grow their confidence – they become happy, healthy and resilient young people. Learn how to help children make the right choices.
Social isolation
About 1 in 4 seniors lives alone, putting them at risk for isolation. United Way supports seniors to stay indepedent and connected by investing in home support services, caregiver and outreach programs to help seniors engage with their community and live in their own homes, surrounded by friends, families and neighbours. Learn how to support seniors to age with dignity.
Click here for the Imagine Gift Catalogue.
For more information, visit the United Way of the Lower Mainland website at uwlm.ca