Support Locked-Out IKEA Workers
June 18, 2013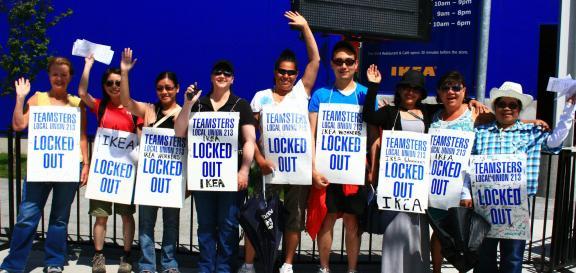 On May 13, 2013 Richmond IKEA locked out nearly 350 of their workers, members of Teamsters 213.
"Ikea is offering a reduced contract, including a tiered wage system which will see some existing employees getting reduced wages and benefits. The company is also trying to force concessions in hours of work, allowances, benefits and work classifications on its workers, and that's simply not on," Teamsters representative Anita Dawson told the Tyee.
Tiered wage structures such as the one proposed by IKEA poison work sites, creating resentment between co-workers. Moreover, they contribute to the part-timing of work, as management seeks to take advantage of the new, lower wage categories.
IKEA has shown a willingness to break Labour Law. On June 5 they were ordered to cease bringing in replacement workers to undercut the union workers they locked out.
Teamsters 213, the BC Federation of Labour and its affiliates, including MoveUP, are encouraging people not to shop at IKEA in Richmond or Coquitlam until the workers at the Richmond store get a fair deal. IKEA is not a franchised company. The Richmond and Coquitlam IKEA locations are both owned by the parent company. Customers who choose to patronize the Coquitlam location while the lockout is on at the Richmond location are, in essence, assisting the company in their side of the dispute.