Standing Up Against C-377
November 1, 2012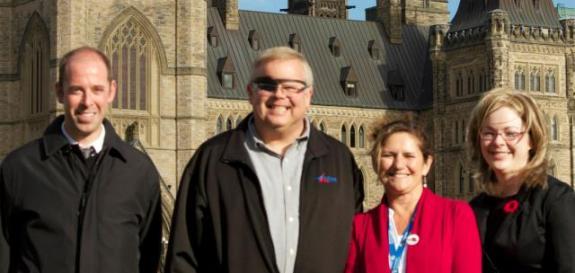 This past Tuesday MoveUP members travelled to Ottawa to meet with Conservative MPs to urge them to oppose Russ Hiebert's Private Member's Bill C-377, which singles out unions and their trusts (including pension and benefits plans) to file public, keyword-searchable statements on all transactions over $5,000, including salaries of all employees and pension and disability payouts matched with identifying information.
Additionally, unions would have to disclose itemized lists of services and supplies purchased from private firms along with prices paid. All of this is argued to be necessary for "transparency" to "protect members" even though as we know most provinces already require unions to make financial reports available to members.
MoveUP President David Black, Communications Representative Jarrah Hodge, Board Member Nancy de Vries, and ICBC Job Steward Jeremy Drews met with Cariboo-Prince George MP Dick Harris and Okanagan-Shuswap MP Colin Mayes. Hodge also attended a meeting with Chilliwack-Fraser Canyon MP Mark Strahl and other union members.
While each of the MPs made it clear they would likely support the bill with amendments, our members made it equally clear that no amendments can fix this deeply flawed and unnecessary legislation.
Key Issues with C-377:
Bill C-377 would create unnecessary, bureaucratic red tape for government, businesses, employee pension and benefit plans, and unions
The bill requires much more reporting than is required for organizations like charities. It will be a costly bureaucracy to set up and administer for government, as well as for unions and employee pension & benefit plans
Existing provincial and federal laws already require trade unions to be democratically accountable to members, and there is no evidence the current system of laws & practices is broken

In any given year only a tiny fraction of financial reports issued become subject to members' complaints – last year there were 5 complaints in Ontario and two federally. All were withdrawn or resolved. This represents less than 0.00002% of the over 4 million union members in Canada

This could lead to a reduction in pension & benefits for union members

The Multi-Employer Benefit Plan Council of Ontario & other pension actuaries have warned additional audit and admin costs could lead to a reduction in payments to plan members.

C-377 would intrude on the privacy of individuals, businesses, employers, and unions

The government would collect and publish the names, addresses, and payments received by millions of Canadians – even Canadians who have nothing to do with a union. The bill would require the administrators of a pension or benefit plan or other trust to disclose personal details of plan members and beneficiaries.
Even where information is collected but not published, the large-scale gathering of personal details increases the risk of security breaches and misuse of private information. Why does the Conservative government need to know how much a union member gets back as reimbursement for braces for his child, or how much a spouse receives in life insurance upon the death of their partner?

C-377 would allow our employers to gauge much more precisely how much money we have to fight them in bargaining, job action, and arbitrations.
Legal authorities including the Canadian Bar Association believe the law would likely be unconstitutional and vulnerable to Charter challenges due to the infringements on privacy and freedom of association
MoveUP's Political Action Committee will be helping more members to set up meetings with their local MPs in their constituencies. If you are interested in getting in touch with your MP to discuss their position on C-377, please email PAC Co-Chair Korleen Carerras at kcarerras@moveuptogether.ca.