Sad, Wrong and Preventable: Day of Mourning for Workers Killed or Injured on the Job
April 29, 2014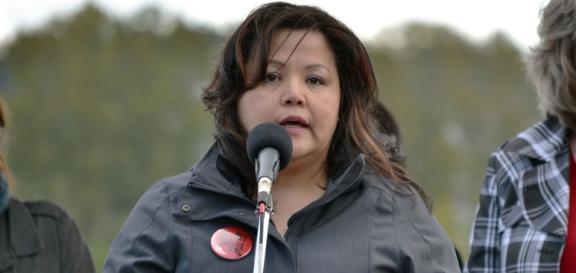 On Monday, April 28, union members and community leaders gathered in New Westminster to honour workers killed or injured on the job.
MoveUP Secretary-Treasurer Lori Mayhew, also the president of the New Westminster & District Labour Council, emceed the event. MoveUP President David Black, Vice-President Annette Toth and Communicatins Director Sage Aaron were also in attendance. Also, among the elected officials was MoveUP member and New Westminster City Councillor Jonathan Cote.
The ceremony began with music played by the Metro Vancouver Firefighters Band. New Westminster Mayor Wayne Wright started the main ceremony by recognizing April 28 as a day of remembrance for the city.
New West MLA Judy Darcy took the stage and reminded the assembled crowd about Bill C-45, also known as the Westray Bill, enacted after the 1992 Westray coal mining disaster in Nova Scotia, where 26 miners were killed after methane gas ignited, causing an explosion. The Westray Bill created rules for establishing criminal liability for employers who cause deaths and injury due to negligence. The provision has only been pursued in British Columbia once. Since Westray passed, over 1,350 British Columbians have died at work. 184 were killed last year alone.
Darcy made a point of acknowledging and remembering the Abbotsford farmworkers killed in 2007 in an unsafe employer's van, the mushroom farmers injured and killed in a 2008 workplace explosion, and construction workers hurt seemingly daily. She honoured firefighters, and other public servants and workers who care for others and risk workplace violence. She remembered those who lost their lives in the 2012 preventable sawmill explosions, where no employers or corporations have been yet held to account.
"We say: no more," she proclaimed.
Darcy told the crowd Harry Bains, the BC NDP critic for jobs, employment, labour and Worksafe B.C., will introduce a private members bill later that day titled "Workplace Accountability Act 2014." Through this bill Bains and the rest of the BC NDP caucus will urge the government to pursue prosecutions of corporate executives and directors responsible for workers' health and safety, in cases of negligence causing workplace death or serious injury. "Today is a day of mourning, and a day to recommit ourselves to a day when workers go to work and know they will come home safely," finished Darcy.
Next to speak was Ron Corbeil, USW District 3, Health, Safety & Environment Director. He started by asking the crowd if they remembered where they were when the first steps were taken on the moon or when U.S. President Kennedy was shot. He then spoke about how clearly he can remember exactly where he was and what he was doing when he learned several of his coworkers and friends were killed on the job.
"Over 1,000 workers are killed [in Canada] every year," he said. "It's sad, it's wrong and it's preventable."
The next three speakers highlighted the cost of government inaction. Maureen Luggi, Joanna Burrows and Lucy Campbell all lost loved ones to sawmill explosions within in the last three years.
Luggi (pictured above) lost her husband, Robert, in the explosion in the Burns Lake sawmill. She has three children and grandkids. "My husband died brutally in a preventable incident," she said. She told the crowd about the day of the explosion, including her unnamed sense of dread in the hours before the tragedy, her last phone call with Robert and the last few simple and caring things he did for his family. He called his mother and his son at college, he drove his kids home from school and made dinner before going to work. She learned of his certain death two days later after the explosion, destroying her hopes he had been taken to the hospital unrecognized. "The coroner said he was pretty much cremated," she told the crowd. Luggi also lost her second cousin, Carl Charlie, in the same explosion.
Luggi said the first two years following the Robert's death were difficult, but the third year, this year, became the worst when she and the families of the other victims learned the company would not be charged criminally.
"There was a broken gas line and these guys were working in minus 40 weather with a broken water line," she said. "The province is not enforcing Westray. Changes are urgent and long overdue. Our families want a public inquiry, the coroner's inquest is not enough. Our families are constantly being met with watered down forms of accountability."
Luggi went on to say when she met with Shirley Bond, the Minister Responsible for Labour, Bond said a public enquiry would cost too much.
"Patching up WorkSafe process not enough," said Luggi. She asked the assembled to sign the online petition calling for an independent inquiry and the enforcement of the Westray Bill.