Rest in Peace: Steve Milne, 1963-2017
March 28, 2017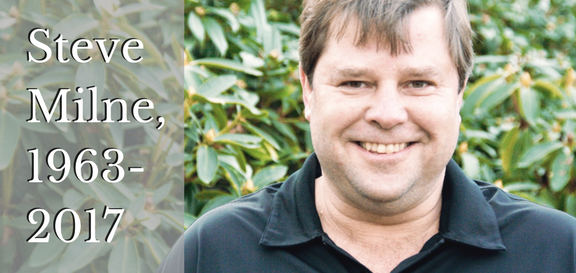 It's with deep sadness MoveUP informs our members and friends of Steve Milne's death. Steve had been MoveUP's WCB Appeals and Occupational Health and Safety (OH&S) Co-ordinator for 14 years, guiding hundreds of members through the appeals process and ensuring workplace safety for many more.
He was a true west coaster and an avid sport fisherman who enjoyed fly fishing on many of B.C.'s rivers. Steve was the youngest of three siblings and is survived by his brother, sister and mother.
His colleagues remember him as a dedicated trade unionist and supportive co-worker whose cynicism masked a warm and generous heart. Members will remember him as a tireless and knowledgeable advocate for their safety and well-being.
Steve's passion for workplace health and safety was shaped by a formative event early in his working life. In August of 1992, Steve was working his second summer as a casual employee at BC Ferries and had been thinking about getting involved with the union's health and safety committee. Then, on August 13th, The Queen of New Westminster pulled away from the dock at Departure Bay before all the vehicles on the upper deck had been loaded. A van fell from the top deck to the lower deck, then into the sea, killing three people and injuring three more.
This tragic and traumatic incident cemented Steve's decision. Ensuring worker and passenger safety was no longer a choice, it was an imperative. After becoming immersed in his union's Occupational Health and Safety Committee, he started serving on the BC Ferry and Marine Worker's Union executive. But, as he became more involved with the administration of his local he realized his passion stayed with workplace health and safety. He joined MoveUP as the WCB Appeals and OH&S Co-ordinator in 2003.
If a member had their WCB claim turned down Steve would go to bat for them. He ensured they had the support of independent providers like occupational therapists, ergonomists or kinesiologists, who would do their own assessments of the injury and workplace to help with an appeal.
He also provided support and co-ordination to MoveUP's Occupational Health and Safety committees, and helped the committees work with management. He impressed on managers the importance of WCB regulatory requirements and the need to include workers in decisions which would impact their health and safety, such as situations that would leave them open to violence or working alone. Steve worked closely with the BC Federation of Labour's Health and Safety Centre.
"Steve was a great guy, and we're all shocked and devastated by his loss," said MoveUP President David Black. "I've spoken to many members who've been helped by Steve through health issues that went beyond their collective agreement or WCB. They've been clear with me about how deeply indebted they feel to Steve for the help he provided. He will be deeply missed by all our staff and any member who was fortunate enough to have his help."
The family will announce details of a celebration of life soon. To stay in touch and get details about the celebration email milnescelebratelife@gmail.com.