Reports to the COPE SEPB from Region Vice Presidents
June 11, 2013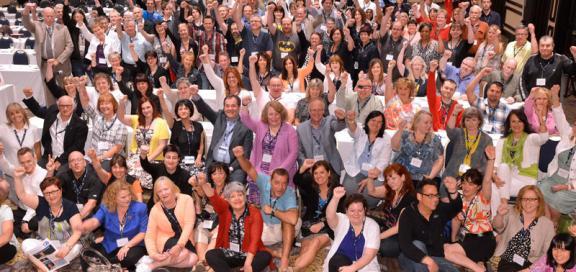 Chantal Dumoulin, VP Region 1 (Quebec):
Region 1 has settled over 500 legal files and negotiated more than 80 collective agreements in the last three years. Safeguarding defined benefits pension plans was a critical commonality. Locals 526 and 571 merged.
About 250 members of the SEPB-Québec joined protesters in Montreal on April 27th to mobilize against changes to Employment Insurance and provided support to student tuition protests. SEPB-Québec remains very active within the Fédération des travailleurs et travailleises du Québec (FTQ) and Dumoulin was elected SEPB-Québec President.
Liz Fong, VP, Region 2 (Ontario):
From the loss of card check, to the Liberal government's imposed wage freeze and strike restrictions, to the recent attack on educators with Bill 115, trade unionists in Ontario deserved a break. Instead, they got Rob Ford.
In the last three years COPE Ontario won improvements many members, but others have faced layoffs.
In addition to education programs and local mergers COPE Ontario has been focused on the Porter Airline strike, which started in January of 2013. The strike shows no sign of end but Porter members have been uplifted by the solidarity and support of other unions in the labour movement.
Angela McLean, VP Region 3 (Alberta, Manitoba, Saskachewan and the Territories)
Since the last convention Saskatchewan public workers won a significant victory in their court challenge against the Public Service Essential Services Act, which was deemed unconstitutional. However, in 2012 an unrepentant Brad Wall government released a consultation paper aimed at overhauling Saskatchewan labour law. COPE 397 submitted a response. During this process COPE 397 learned businesses were secretly lobbying government. 397 was able to force the businesses' names into the open by serving a disclosure request to the minister responsible.
Locals 397 and 379 merged at the beginning of December, 2010. The expanded local has taken on a host of initiatives including an executive and rank-and-file "grassroots" committee, educational courses and charitable events.
David Black, on behalf of the VP for Region 4 (British Columbia)
MoveUP saw an interesting contrast between its public and private sector bargaining units: deals were easier to find in the private sector, generally with better wage increases. The BC Liberals mandated "net zero" wage increases in bargaining. After several months of stalemated negotiations, MoveUP members at ICBC went out on strike. In the end a deal with modest wage increases was reached.
The recent provincial election was a missed opportunity to elect a worker-friendly NDP government. The BC NDP lost after entering the election period with at 20 point lead in the polls. The result is sure to be analyzed by pollsters and political parties for years.
Patty Clancy, VP for Women
There was a bright spot in federal politics: in 2011 the NDP elected a caucus with 40 percent women for women's resources, the highest of any Canadian party to date – but not yet parity.
Several unions, including COPE SEPB, have joined to support a multi-level multi-year affordable child care plan. Visit www.rethinkchildcare.ca for more information.
COPE SEPB continues to be active with the Canadian Labour Congress Women's Committee