Report from National Convention – OFL's Chris Buckley: Do Better for Everyone
June 18, 2016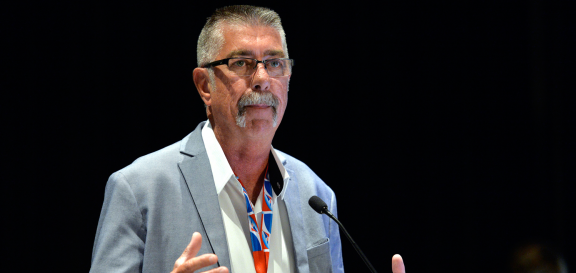 When Chris Buckley spoke at the COPE-SEPB convention, the first thing he mentioned was the work he and the Fed Forward team have been doing to strengthen and revitalize the Ontario Federation of Labour (OFL) during his time as president. Among the issues Buckley tackled include the reinstatement of two COPE members who were removed from the OFL office by the outgoing president, and outreach to unions that had left the OFL. "We have 130,000 OPSEU members coming back to the House of Labour," said Buckley, and promised more to come.
Buckley went on to say that unity and respect will allow the labour movement to focus on its mandate of making lives better for all workers. "It's about building the best damn labour movement possible," he exclaimed to cheers from the delegates.
Through the Make It Fair campaign Buckley and the OFL vow to tackle outdated and flawed labour laws, which will benefit unionized and non-unionized workers alike.
Speaking to the right-wing obsession with austerity measures, Buckley said, "I don't spend time awake at night thinking about the deficit, I spend time thinking about how people are making ends meet, how seniors are going to manage, how kids are going to get an education. We have to do better for everyone."