Report from National Convention – Ed Broadbent on Electoral Reform
June 18, 2016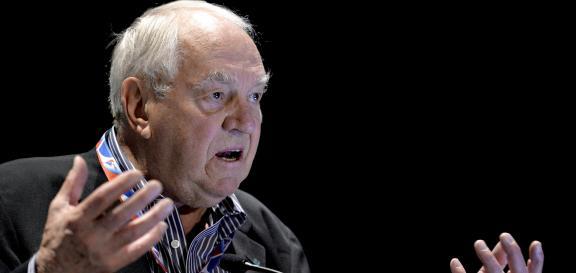 Former MP and NDP leader Ed Broadbent joined the delegates to spoke on behalf of the Broadbent Institute about electoral reform. But first, he took a moment to talk about British Labour MP Jo Cox, who was murdered while doing constituency work. He praised her legacy and asked delegates to honour her by working towards unity and acceptance and away from hate and intolerance.
Turning to electoral reform, Broadbent used his own political experiences to ground the need for electoral reform in pragmatic examples. "If [the last federal election] was representative we would have a minority Liberal government and the NDP with a third of the seats," he explained.
Since Canada currently has a winner-take-all system, a lack of proportionality can rob all caucuses of much needed regional perspectives. "In Atlantic Canada 100 per cent of the federal seats are Liberal, with about 39% of vote. With proportional representation, it would be six Liberal, six NDP and one Green. Issues like fisheries, equalization payments and other regional issues are important to Atlantic Canadians, and they deserve to be debated in all caucuses."
Broadbent went on to say that after some pressure from the NDP and the press, the Liberals reconstituted their electoral reform committee so that it reflected the popular vote, and that a proposal for new legislation would likely be coming by the end of the year.