Remembrance Day: lest we forget
November 10, 2015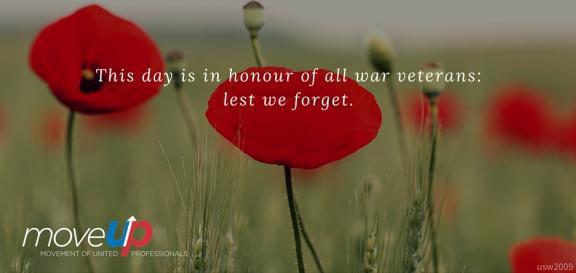 On Wednesday, November 11 we stop and take the time to remember sacrifices made and lives lost in war.
As many members know, MoveUP started as the union for the BC Electric Company. During the Second World War, hundreds of BC Electric and future BC Power Commission employees left their jobs to fight overseas. While former colleagues enlisted, many workers who stayed behind volunteered their time after work in the homefront war effort.
The BC Electric staff were very active in the national War Savings Bonds program. Employees signed up for payroll deduction plans and struck a "war comforts committee." The committee raised funds from BC Electric staff, and collected clothes, magazines and baked goods to send overseas.
The BC Electric Employees Magazine was instrumental in driving the donation effort. The magazine kept a running tally of the number participants in the committee, how much was collected, and nipped at the heels of departments whose donations lagged behind their colleagues. The publication ran regular stories on BCE's war efforts, describing everything from how the company helped organize blackouts to convening of women's groups to knit socks and sweaters for Allied soldiers.
No war since has reached as deeply into Canadian society. But Canadian soldiers have served, been injured and have lost their lives in several conflicts since then. Remembrance Day is not about the impact of warfare from the annals of sepia-toned history; it's an important reminder to reflect on how we now – today – treat those who have made enormous sacrifices on our behalf.
Many MoveUP members have served in our armed forces, are currently serving or are related to those who have had their lives touched and forever changed by war.
We must not forget the sacrifices these brave people have made. And we must do better for those who fight for our country.
This day is in honour of all war veterans: lest we forget.
David Black,
MoveUP President