Remembering Bob Derby
June 10, 2015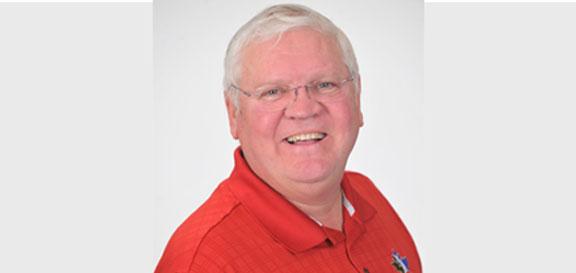 We were shocked and saddened today to learn of the passing of our former Vice-President for Combined Units, Bob Derby. Bob was the sole casualty of a tragic motor vehicle accident.
Anyone who attended one of MoveUP's social events before Bob Derby's retirement in 2011, from a baseball game to the annual breakfast with Santa, had Bob to thank. Bob took his role as social events co-ordinator seriously and, as a gregarious, affable, back-slapping Scotsman, he was well suited to it. He made an effort to extend his warmth to new members and did his best to make everyone feel welcome. Bob served as Vice-President for Combined Units for six years. During that time he marshalled the iconic MoveUP union blimp into the skies at countless labour protests and rallies.
"Bob was always happy and energetic and supportive of new members to our union, as well as supportive of me, personally," said Vice-President Heather Lee. "He was a brave and courageous Scot. We shared many a rusty nail and I will miss him very much."
Bob also worked tirelessly behind the scenes on such less-glamorous but crucially important tasks as modernizing the MoveUP Constitution and by-laws and serving as one of the best on-the-ground campaigners for the union's pro-public power campaign.
"Bob Derby touched deeply everyone he came into contact with. He was a committed trade unionist, a strong advocate for public transit and always on the side of those who needed help," said President David Black. "He was a good man. He was a loving husband to Amanda and a loving father to their daughter, Lindsay."
David continued, "Bob was someone who would find ways to go out of his way to help others. If something needed to be done, he was the first one to roll up his sleeves and get it done. He volunteered his time on whatever project needed doing around the union, from our big campaigns, to organizing social events for our members, to the smallest maintenance around the office. He took on these tasks ably and cheerfully. Bob's service was selfless, he felt no need to hold big titles or get public recognition. Knowing that he'd filled a need was enough. You also knew that Bob had your back, no matter what happened. He earned that loyalty in return."
"My family had the chance to visit with Bob and Amanda in their home in the south Okanagan. They were both extremely hospitable, and Bob instantly became a hero to my young daughters. My family and I send our deepest condolences to his wife Amanda, daughter Lindsay, and to all his friends and former co-workers."
Bob was a long-time union activist back to the time he worked as a mechanic supervisor at the Coast Mountain Bus Company. First elected to the MoveUP executive board in 2001, Derby had previously served as an executive councillor and as job steward. He played a key organizing role in the marathon 2001 transit strike in Greater Vancouver, and will long be remembered for ordering the shutdown of the entire Surrey Gateway building with pickets after managers reneged on a picketing agreement.
Bob's lasting legacy at MoveUP is the strong foundation of social events he helped build, giving members from all bargaining units in different communities an opportunity to get together in a friendly spaces away from both the workplace, and from union business. From a MoveUP-sponsored Sun Run Team to summer golf tournaments, union days at Hastings Racetrack, and hockey, football, and baseball games, Bob tried to make sure that there was something for everyone, while also opening the doors to events in communities around the province.
We mourn his loss and we will miss him deeply.