Rally Marks Two Months Since BCAA Locked Out Employees
August 5, 2015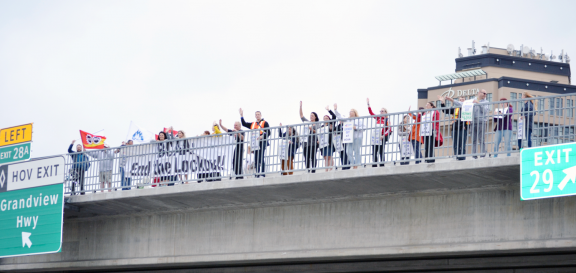 MoveUP Says BCAA Treating Roadside Assistance Employees Unfairly
BURNABY – This morning, drivers on Highway 1 were greeted at the Willingdon overpass by the sight of a rally marking two full months since BCAA locked out their roadside assistance employees on June 5. The approximately 70 employees are members of the Canadian Office and Professional Employees Union Local 378 (MoveUP).
"We're here today to remind drivers that BCAA does not have their best interests at heart," said MoveUP Vice-President Gwenne Farrell. "BCAA is putting B.C. and Yukon drivers through long waits for roadside assistance just to avoid paying their employees fairly."
MoveUP members at BCAA-Emergency Roadside Services are expected to work 40 hours for the same pay as other BCAA employees who fill similar roles but only work 35 hours a week.
Darshan Andrews has worked at for BCAA-ERS for over three years. "We all [at BCAA-ERS] love doing what we do. We love helping people and solving problems. We care about BCAA's members and we're proud of the service we provide," Darshan said. "We're genuinely worried about the quality of service they're now getting with only a handful of people staffing the roadside assistance lines. We want to go back to work."
"I visited the BCAA picket line at the beginning of the lockout and it's a shame that I had reason to stand with them at this rally two months later," said BC Federation of Labour Secretary-Treasurer Aaron Ekman. "It is simply unacceptable for BCAA to treat their employees so poorly. I want the locked out members to know they have the full support of the BCFED in this dispute."
MoveUP's BCAA members were also joined by representatives of the Association of Machinists and Aerospace Workers, the Public Service Alliance, the BC Government and Service Employees Union, the Federation of Post-Secondary Employers and the Canadian Federation of Students.
MoveUP represents approximately 70 members in the contact centre at BCAA Emergency Roadside Services. They are responsible for receiving roadside assistance calls and dispatching repair vehicles to assist BCAA members. The contract between MoveUP and BCAA-ERS expired in September 2014. BCAA locked out their employees on June 5, 2015.
-30-
Contact: Sage Aaron
604-317-6153
saaron@moveuptogether.ca