Put Pets Before Profits
July 15, 2013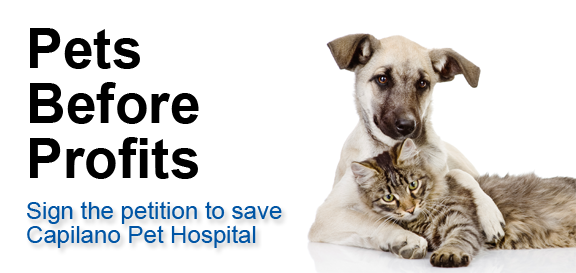 For over 50 years locally-owned Capilano Pet Hospital provided quality care for family pets on the North Shore.
Now Associate Veterinary Clinics Ltd., a subsidiary of American corporation VCA Antech, has taken over the practice and decided to close the hospital on September 6, 2013.
Over 8,000 clients on the North Shore will lose their family vet and over 30 staff and doctors will be out of work.
This isn't the first time Associate Veterinary Clinics has shut down a local pet hospital, and isn't likely to be the last. They bought then closed the Cottage Cat Clinic, a vet clinic on lower Lonsdale in North Vancouver, and the Cat Hospital in West Vancouver.
They also bought and closed two pet clinics in Vancouver's Champlain Heights and Dunbar neighbourhoods.
Associate Veterinary Clinics is very aggressive about their bottom line. After they took over the Capilano Pet Hospital prices went up and the staff were directed to charge clients top dollar for everything. Staff lost the ability to give frequent clients with high-needs pets breaks on fees.
You can click here to sign the petition to send Associate Veterinary Clinics a message: put pets before profits and keep the Capilano Pet Hospital open.