President Black Raises Cafeteria Layoffs and Transit Police's Role with Evergreen Line at TransLink AGM
May 31, 2012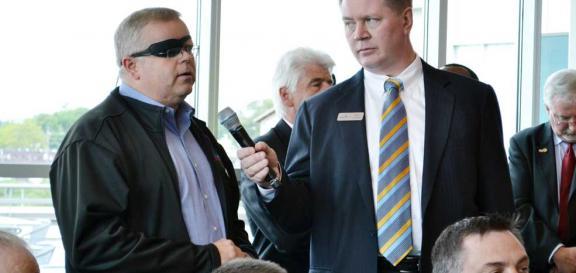 MoveUP President David Black and Vice President Heather Lee attended the TransLink Annual General Meeting on May 30. Since its inception TransLink struggled to find a sustainable, long term funding formula. Several community members and members of advocacy groups attended the meeting to query the TransLink board and executives on the future of transit services. Members of the disability community were out in force to protest the decision to discontinue the Taxi Saver program which subsidizes taxi travel for disabled people with mobility challenges.
President Black said following:
"On behalf of our members who work in this cafeteria every day, I'd like to welcome everyone to this AGM. Unfortunately, the funding failures passed on to Coast Mountain are resulting in the closure of this cafeteria and elimination of their jobs.
"But I have a specific question around the police services. A detailed audit shows that transit users and taxpayers are getting very good value for service with our transit police and security services, despite some politically motivated, and factually incorrect, attacks on the working conditions of our police. How is TransLink planning on managing the transit police department as it grows with the Evergreen Line and the ensuing calls for more security and policing in the system?
"Secondly, as a property tax payer, a provincial income tax payer, a fuel tax payer and a person who pays fares to use the system, I'd like to direct this question to Board Chair Nancy Olewiler, and I appreciate that you've acknowledged that funding failures are resulting in real cuts: How is the Board planning on dealing with the failure of the provincial government to secure sustainable funding for TransLink to avoid unfortunate, and short sighted, cuts like our members who are losing their positions in this facility are facing, and the Taxi Saver users we've heard from earlier?"
TransLink Chief Operating Officer Doug Kelsey replied to the first part of Black's question by saying there was not yet a plan in place for police services on the Evergreen line but that one was coming.
Olewiler replied by repeating what TransLink CEO Ian Jarvis had said – TransLink will look for efficiencies and begin work on a new plan for funding.
With cuts to a transit system in need of growth and a long litany of denied funding sources, transit dependant riders and the workers who provide transit services can be forgiven if their optimism for new plans and efficiencies are waning.