Night riders: Riding along with the transit security night shift
April 29, 2014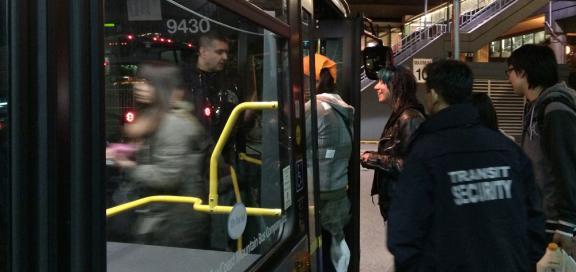 By Jarrah Hodge, MoveUP communications officer
MoveUP represents Transit Police, the sworn officers who work for TransLink, and Coast Mountain Bus transit security. Last June President David Black and I rode along with transit security members on a morning shift. We recently joined them for a graveyard shift in order to get a full picture of their work.
7 p.m.
We meet at the Coast Mountain Bus office in New Westminster and get a picture of their day-to-day jobs.
"We do fare inspections, ride the coaches and ensure everything's safe and sound on transit properties. We also field customer inquiries. We help explain how the fares and upgrades work," explains one member, Tom*.
"We can run into fare-evaders, irate passengers, drunk passengers. We're trained to de-escalate these situations. It's for the passengers and the operators [bus drivers] who are out there. We see them and their families and we want them to go home safe at night," adds Tom.
One of the most significant challenges for our members is understaffing. On a full shift, like tonight, only eight people to cover the entire bus system.
I join Phil, Craig and Jeremy in a car to respond to a call. Phil gives me a heavy bullet-proof vest to wear, and a pair of what look like tacky sunglasses; they're to protect my eyes in case someone spits at them.

On the way over, I ask Craig why he works in transit security. He says, "I like dealing with the public and helping people if I can, keeping everyone safe."
Craig tells me about one of his worst experiences on the job: the time he was riding a bus in the Downtown Eastside and got poked with a needle.
"I got rushed to the hospital to get checked out and it was a stressful ten months waiting to find out if I had anything," he says.
10 p.m.
Phil, Jeremy and I ride the 106 to New Westminster Station. Phil asks the bus driver how he is.
"I'm good – great now you guys are here," he replies. He hopes we can stick around a bit at New Westminster Station because there is a regular passenger who's a problem.
"You know, the one who threatened to shoot me," he reminds them.
2 to 4 a.m.
After the Skytrain shuts down, Transit Police go off-shift, so transit security are the main ones keeping things safe on transit property and the crowded night buses. David goes downtown to ride the night-buses with our members.
"It's been a while since I took a night bus and I forgot how crowded they get," David said.
Riding the N19 back along Kingsway at one point a passenger gets stressed and a little belligerent at being asked to move to the back of the bus to make room for more people. He's clearly intoxicated. Our members and another passenger finally calm him down and get him to the back of the bus so others can board.
"Then a bit later I see that he's passed out. This guy was lying on the floor and he had vomited everywhere. We stopped the bus and our members were really good. They tried to revive him but he was really out of it so they got him onto the sidewalk and covered him with a blanket until an ambulance could get there," David explained.
"The ride-along showed you just don't know what's going to happen when you're in their job, and you don't have a lot of other people or resources if things go sideways. I was really impressed with how our members remained calm and focused on protecting and assisting drivers and passengers."
*Names have been changed to protect our members' privacy.