New Agreement with Gains for Members at Community Savings Credit Union
June 5, 2014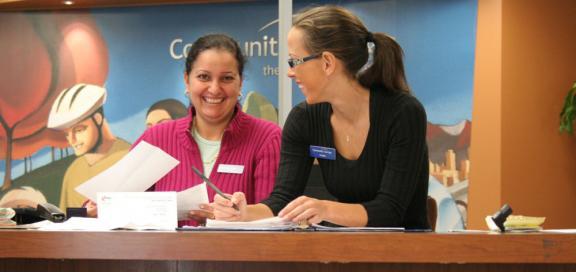 MoveUP members at Community Savings Credit Union have a new, four-year collective agreement that contains significant improvements.
"Our bargaining committee is really proud of this agreement. It makes things better for everyone, including part-timers, people accessing pregnancy/parental/adoption leave, and people who are close to retirement," said Union Representative Sarah Melsness.
The wage increases in the agreement are 2.5 per cent in the first year and 2.75 per cent in each of the next three years. Members will also have increases to their RRSP contributions, as well as increased chiropractic and vision benefits. Part-timers, who previously had to pay half, will now have their health benefits fully covered by the employer.
For pregnancy/parental/adoption leave, people will now have the option of taking another six months unpaid if they want to extend the time off. Employees with more than 35 years of service are now entitled to more vacation. And while employees age 65 were previously eligible for severance upon retirement, the age limit has been reduced to 60.
"What this means is it's going to be easier for people to take care of their health, to achieve work-life balance, to save for retirement, and to choose to retire earlier if they wish," Melsness explained.
Another significant development is Community Savings Credit Union announced they are now a "Living Wage Employer", as defined by First Call BC's Living Wage Campaign. This means even non-union casual employees and contractors are guaranteed a living wage based on the cost of living in their region.
"This is significant because it says everyone who works for CSCU deserves to be able to make ends meet and to be treated fairly. If the credit union wants to withdraw in future, they have to consult with MoveUP to determine appropriate wages moving forward."