Napoleon Gomez Details the Struggle for Workers' Rights in Mexico
November 2, 2009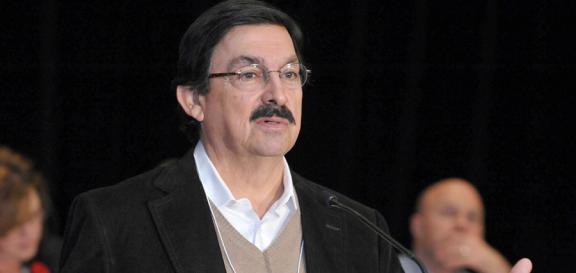 Delegates hears a sobering and gripping tale Monday afternoon as Napoleon Gomez, exiled leader of the of the Mexican union Los Mineros, detailed the daily and often deadly struggle for workers rights in Mexico.
Gomez, who has received numerous death threats to himself and his family, talked about the regular and constant abuses of human rights by the Mexican Government against workers. Gomez named an appallingly long – and growing – list of activists and union leaders attacked and assassinated by government forces and thugs. Included in that list was the leader of the Farmers' Union, assassinated just last Friday along with his wife, children, and grandchildren. Actions like this, Gomez said, are far from unusual, and the government's response, even to a popular leader who was regarded as a "Robin Hood," is characterized indifference.
Gomez was removed from his elected position and accused of trumped-up charges by the government after criticizing the Mexican government's response to the death of 65 miners. Napoleon has been living in Canada since 2006, supported by the United Steelworkers and several other unions.