Multicultural Committee Delivers 2,300 Mooncakes for Mid-Autumn Festival
September 16, 2014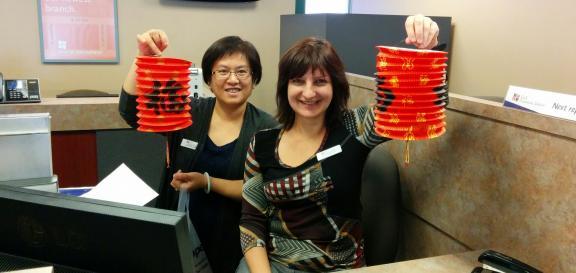 On Monday, September 15, volunteers from the MoveUP Multicultural Committee visited twenty-two different worksites around the Lower Mainland to deliver 2,300 mooncakes in celebration of the Mid-Autumn Festival, which took place earlier this month.
Many Chinese, Taiwanese, Japanese and Korean-Canadians celebrate a mid-autumn festival, honouring the harvest moon, which rose on September 8. Traditionally, the Chinese version of the mid-autumn festival involves carrying brightly-lit lanterns and eating mooncakes, which are small, round pastries filled with a red bean or lotus seed paste. For that reason, the event is also known as the Mooncake Festival.
Job Stewards received the cakes and helped to distribute them at their worksites, including various Accenture, ICBC, Coast Mountain Bus and BC Hydro locations, Capilano University, BCAA Road Assist, FortisBC Energy Inc. in Surrey, the Burnaby FortisBC customer care centre, and several union offices.
MoveUP also provided paper lanterns to workplaces so members could decorate their workspaces or breakrooms.
There was so much demand for mooncakes this year that the union didn't have enough cakes for every member in every worksite we visited, but the committee hopes everyone enjoyed themselves. If you have any feedback for the committee, feel free to email the co-chairs at cmc@moveuptogether.ca.