MoveUP Wins Prestigious Labour Communications Award
June 3, 2013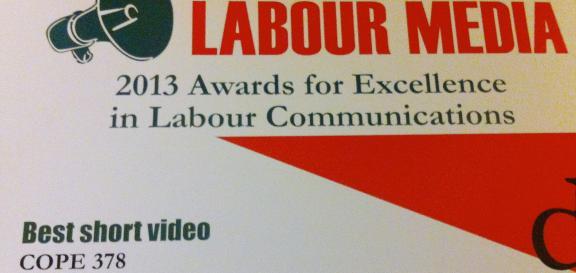 MoveUP was honoured to take home the award for best short video at the recent Canadian Association of Labour Media awards.
The award was given out for "New Guy Meets Union": the first in our three-video member orientation series.
Aylwyn Lo, the judge in the multimedia categories, said this of our video:
"Many of the entries in this category were well-rounded, well-conceived and solidly produced. However, this entry stood out from the rest by miles. Genuinely funny, fantastically acted, and informative. And it cries out to be shared on social networks, which can only be good for the union."
The Canadian Association of Labour Media (CALM) provides training, news and online services to a national network of union activists and editors. Over 300 member unions were eligible to compete in this year's awards.
If you haven't yet seen the other videos in the member orientation series, you can find them at https://moveuptogether.ca/member-services.