MoveUP Vice-Presidents Re-Elected
November 20, 2012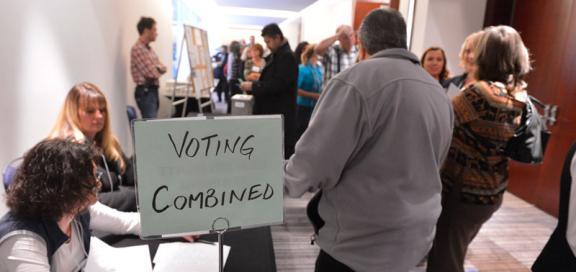 MoveUP Vice Presidents Gwenne Farrell (Utilities), Jeff Gillies (ICBC) and Heather Lee (Combined Units) were either re-elected or acclaimed to their positions at the 2012 MoveUP Convention last week. Their new term will last until 2015.
Gwenne Farrell was first elected Vice-President in 2005, having worked as a Financial Analyst with BC Hydro. In the spring of 2007, Gwenne was also elected to the office of Secretary-Treasurer of COPE-SEPB, Local 378's National Union.
Gwenne chairs a number of MoveUP Committees, including the Health and Safety, Convention, and Arbitration Review and Education Committees. She sits on the New West District Labour Council Executive and the Canadian Labour Congress' Energy Task Force.
Jeff Gillies was first elected COPE Vice President in 2011, coming out of ICBC, where he worked most recently as a Bodily Injury Adjuster at the 5th and Cambie Claim Centre. Prior to that he served as a Steward, Councillor, and then Executive Board member.
Jeff co-chairs the Political Action Committee and also serves as Vice President – Region 4 on the COPE-SEPB National executive.
Sister Heather Lee was elected MoveUP Vice-President in 2011. Prior to that she served as Vice President at COPE 15. During the COPE 15/MoveUP merger she was appointed Transition Officer to MoveUP. Sister Heather comes out of the Burnaby Civic Employees' Union, Local 23 CUPE, in the capacity of Administrative Assistant.
Sister Lee co-chairs the Constitution and Bylaws and Organizing Committees for MoveUP.
MoveUP thanks everyone who put their name forward for election. Your efforts keep our union vital.