MoveUP Thanks BC Fed President Jim Sinclair for Service to Labour Movement
October 9, 2014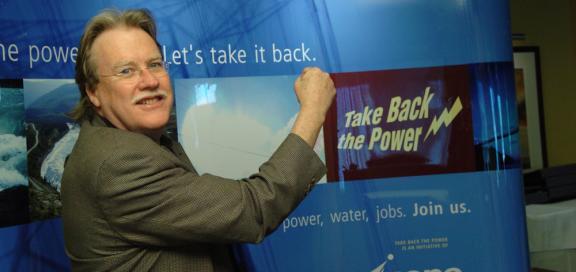 This morning, long-time BC Federation of Labour President Jim Sinclair announced he will not be seeking re-election at the Federation's November convention.
"We want to take this opportunity to sincerely thank Jim Sinclair for his decades of dedicated service to B.C.'s labour movement, including the many times he has been there, standing in solidarity with MoveUP members," said MoveUP President David Black.
Jim Sinclair has always fought tirelessly for working people in B.C., not just those with a union card, embodying the union principle that "what we desire for ourselves we wish for all." He led the BC Federation of Labour's campaign for a better minimum wage and against the $6 training wage, and eventually forced these improvements from our provincial government.
He stood alongside young workers fighting to keep Grant's Law to protect late-night retail workers. And again and again, he raised awareness of exploitation of vulnerable workers, demanding employer and government accountability in cases like the Langley mushroom farm explosion, Tim Horton's Temporary Foreign Workers, and tree planters facing racist discrimination.
Black noted, MoveUP members could always count on Jim Sinclair's solidarity with our members and their issues. Many MoveUP members will remember him speaking at our conventions and rallies, commenting in the media on behalf of our members in the public sector, and visiting our picket lines. Sinclair also played an instrumental role with Citizens for Public power during our campaign against private power projects.
"We wish Jim all the best in the future, and again offer our heartfelt thanks for all the time and energy he has devoted to our movement," Black stated.