MoveUP Stands with Locked Out CUPE 7000 Workers at Southern Railway
January 5, 2015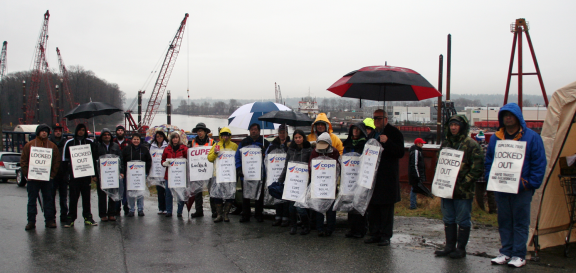 Southern Railway issued lockout notice to its CUPE 7000 members on New Years Eve. CUPE 7000's Southern Railway members have been joined by their coworkers who are MoveUP members in solidarity on the lockout picket line. This Monday morning MoveUP President David Black and Secretary-Treasurer Lori Mayhew visited the union members walking the picket line.
The lockout notice from the employer came after CUPE 7000 members overwhelmingly rejected Southern Railway's final contract offer.
CUPE 7000 president Bill Magri said Southern Railway's offer was loaded with concessions. "It's all bad stuff," he said, listing reductions to pension benefits as well as other issues including contracting out, job security, and overtime effects on health and safety.
"We're open to bargaining," said Magri. "But Southern Railway doesn't want to." CUPE 7000 and Southern Railway met in mediation in early December of 2014 but Magri said it was clear the employer wasn't serious about finding a fair and equitable deal.
Magri expressed his thanks to MoveUP members for standing strong with their CUPE 700 friends and colleagues. "We really appreciate the COPE members supporting us. We know they're out with our guys," he said. "It makes a real difference."
"When it's time to bargain, our members will be sitting across the table from the same employer," said MoveUP President David Black. "It's important to let Southern Railway know that union members support each other, and that we will all stand together for a fair treatment and a decent contract."