MoveUP Stands in Solidarity with Ontario Education Workers
November 4, 2022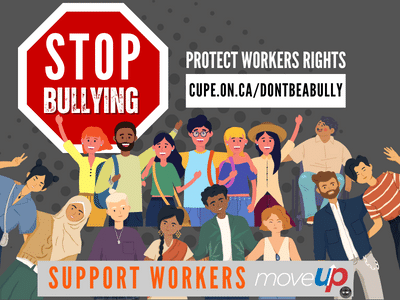 Premier Ford and his Conservative party in Ontario are imposing unfair contracts on education workers with significant wage cuts and then to make it even worse he wants to silence workers and tell them they can't even protest against his abusive law. This is a slap in the face to workers who have been on the front line during the pandemic and just like all of us are facing massive inflation and price increases.
This abhorrent piece of legislation saddles workers who dare to defy such ruthless and brutal legislation with hefty fines. Ford knows his legislation will break Canadian's constitutional rights and freedoms. His legislation pre-emptively overrides the Charter of Rights and Freedoms and the Human Rights Code which leaves workers with no right to challenge the legislation at the Labour Board or in court.
Bill 28 is historic and precedent-setting in all the wrong ways. It seeks to attack and undermine workers and the very democratic principles and ideologies that make a civil, democratic society civil. By invoking the notwithstanding clause, Ford and the Conservative Party are seeking to trample on some of our most fundamental rights while limiting the ability of those he and his government are stomping all over to challenge him and the legislation.
As of Friday, November 4, these brave workers will be off the job and fighting for themselves and for all our collective human rights. We must support and stand with  the members of CUPE OSBCU in this fight.
There are many ways you can support these workers who are bravely taking a stand.
We encourage MoveUP members to show support for Ontario education workers at https://cupe.on.ca/dontbeabully/
For members in Ontario or who will be visiting:
You can find your closest picket line by using CUPE's Picket Line Finder here: www.cupe.on.ca/dontbeabully. You can also send an email to Ford using the email form provided on the page. For those who live closest to an NDP MPP office, please consider travelling to your nearest PC MPP's office to picket. The NDP is standing in solidarity with education workers, and we thank them for their solidarity.
Email your MPP and let them know you're opposed to this draconian legislation and that you stand with education workers using the OFL's handy email your MPP tool found here: https://ofl.ca/action/email-hands-off/
MoveUP stands in solidarity with education workers and all workers who are under an unprecedented attack that seeks to undermine our collective Labour and human rights. We must stand together and fight back. If history has taught us anything, the old adage remains true – the workers united will never be defeated.