MoveUP stands in solidarity with Capilano University Faculty
April 9, 2015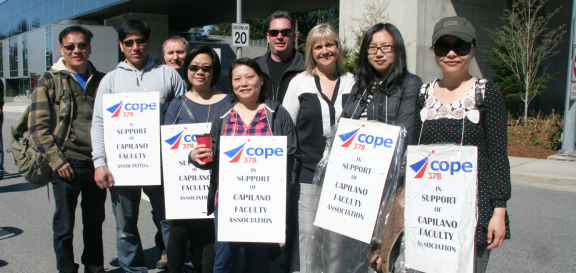 MoveUP is proud to represent 341 administrative and support staffers at Capilano University. We're prouder still that our members are standing in solidarity with striking faculty members by respecting the instructors' picket lines.
MoveUP represents library workers, clerical staff, lab techs, daycare attendees, maintenance workers, tradespeople, IT staff, student support services and more at Capilano University.
Our CapU members are also in bargaining with the University. Our bargaining committee is sitting across the table from the same employer. It's always important for union members to support each other during contract negotiations, and now more than ever. CapU staff are supporting each other and demanding fair treatment and a decent contract.
Capilano University is a great school that provides unique, world-class education thanks to a dedicated staff and faculty. However, it receives very low per-student funding from the provincial government – the second lowest of all B.C.'s post-secondary institutions. Because of that, CapU made significant cuts to arts programs last year and has introduced across-the-board cuts for this year.
There is no clear provincial funding formula that justifies denying the university a fair portion of public resources. And the impacts are now being felt by the faculty as the school seeks concessions from their contract. Our members may be next.
If you live on the North Shore, please consider sending an email to your MLA demanding fair funding for CapU. Click here to send your email. If you live elsewhere, please send a message of support to the Capilano Faculty Association and our members at Capilano University by emailing communications@moveuptogether.ca
In solidarity,
Annette Toth
Acting President, MoveUP
Heather Lee
Vice-President, MoveUP